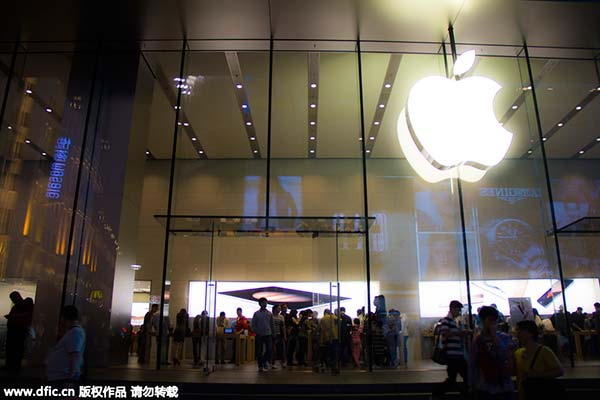 An Apple shop is seen in Shanghai, Oct 11, 2015. [Photo / IC]
Apple Inc paid 6.45 billion yuan ($982.92 million) in taxes in China last year, becoming the third-highest tax payer in the service sector in Shanghai, the National Business Daily reported on Monday.
The US-based tech behemoth was outrun only by Bank of Communications and Shanghai Pudong Development Bank with 13.7 billion yuan and 13.3 billion yuan in taxes respectively, the newspaper cited a newly released ranking list by the city's taxation regulator.
Meanwhile, in the city's industrial sector, Shanghai Tobacco (Groups) Corp tops the list with 76.2 billion yuan, tailed by Shanghai Volkswagen and Sinopec Shanghai Petrochemical Co Ltd.
Tax revenues of the municipality hit 1.12 trillion yuan in 2015, up 22 percent from a year earlier.
Apple, the giant maker of iPhones and iPads, has been involved in several tax evasion scandals in recent years.
The company's Chinese subsidiary was fined 65 million yuan last year as it had failed to pay 452 million yuan in taxes in 2013. It had played down its 2013 revenue and cost figures by 8.8 billion yuan and 3.4 billion yuan respectively.
According to a recent Reuters report citing sources, Apple is set to pay Italy's tax office 318 million euros ($348 million) to settle a dispute over allegations it failed to pay taxes for six years.
It will also sign an accord on how to manage its tax liabilities from 2015 onward, said the report.
The EU last year accused Ireland of swerving international tax rules by letting Apple shelter profits worth tens of billions of dollars from revenue collectors in return for maintaining jobs.
Meanwhile, the company is also facing criticism on its home turf in the United States because of the so-called inversion deals, whereby a company redomiciles its tax base to another country, said Reuters.