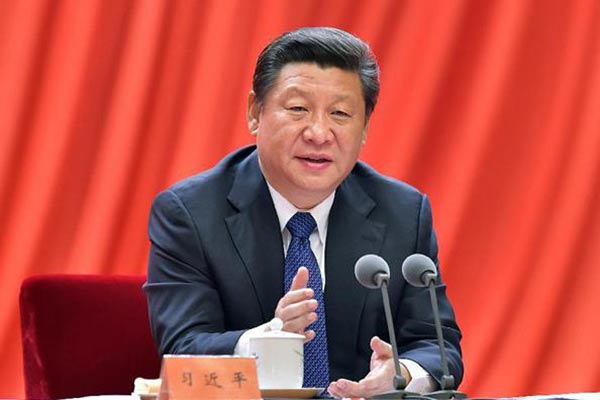 Chinese President Xi Jinping, who is also general secretary of the Communist Party of China (CPC) Central Committee, delivers an important speech at the fifth plenary session of the 18th CPC Central Commission for Discipline Inspection (CCDI) in Beijing, capital of China, Jan 13, 2015. [Photo/Xinhua]

'New normal' calls for govt action to tap into China's vast population for growth, experts say
Economists called it a "great signal", an "important change" and a "starting point of all innovations".
The Leading Group for Overall Reform, which was set up at the end of 2013 and is headed by President Xi Jinping, has been talking for the last couple of years about the economy's "new normal", which many say means new and challenging realities.
Many changes, such as rising labor costs, a shrinking export market and a saturation in demand for many products, all seem to point to a sharp fall in growth, if not stagnation.
What should the government do? Should it dole out more financial stimulus for producing the same goods it has been producing for a decade? Or should it wait for demand to rebound?
Xi's solution for the new normal is known as "supply-side reform".
For a layman, that may sound like just another opaque economic term. For some foreigners, it may ring the bell of the policies pursued by Ronald Reagan and Margaret Thatcher in the 1980s. But for Chinese economists and corporate leaders it carries major significance as part of a distinctively Chinese strategy.
It bids farewell to the Keynesian strategy, namely to overcome a recession through financial stimulus and government spending. "Keynesianism is only useful for dealing with short-term problems", senior economist Wu Jinglian said.
Li Zuojun, a researcher with the State Council Development Research Center, told Xinhua News Agency that demand-side support policies "can no longer cure the economy's disease."
In practice, it means abandoning the tangled small debates-whether to stimulate or not to stimulate, whether or not to bail out failing companies, whether or not to incur new government debt, whether to rely on old industries or bet on new industries and services.
Supply-side reform represents a much clearer line of thinking to lead the economy forward, many experts say. Its focus is to tap Chinese society's potential and release its creativity more than ever before by phasing out discriminatory policies, such as the rigid urban household registration system, and enacting accommodative laws.
Xi elaborated supply-side reform in a recent speech at the Central Economic Work Conference, an annual high-level economic strategy-making meeting, after he first raised the idea in mid-November.
Wang Xiaoguang of the China Academy of Governance said supply-side reform will be of central importance throughout the country's 13th Five-Year Plan period (2016-20).
China's near-term tasks in supply-side reform include cutting housing inventories and business costs, reducing government debt, eliminating superfluous industrial capacity, and streamlining administrative procedures, according to a statement produced at the Work Conference.
In forging ahead with reforms, China will try to keep a balance with the demand side-for example, by moderately expanding its credit supply-said Wang Jun, a researcher at the China Center for International Economic Exchanges, a high-level think tank.
Other than the supply-side reforms, Chinese leaders have also proposed several other key notions:
"A sense of gain". The best way to test if a reform is successful or not is to check the people's feelings about its result, Xi told the Leading Group in February, pledging that China will bring to its citizens a greater "sense of gain".
"Four no changes". This means there will be no change in the Chinese economy's fundamentals; no change in resilience and room for maneuver; no change in its positive side; no change in progressive momentum.
"Beautiful China". Other than economic goals, the 13th Five-Year Plan will bring marked improvement in China's environmental and ecological conditions.