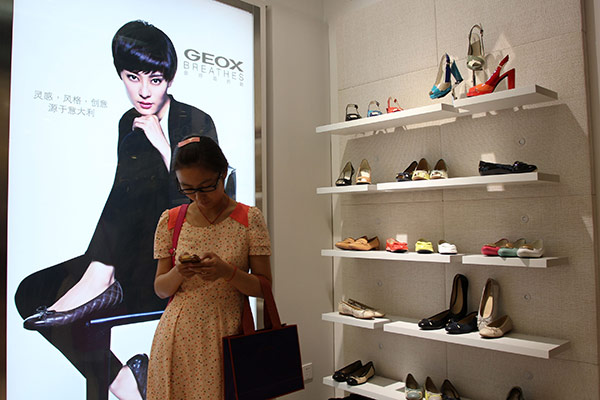 A customer at an outlet of Italian shoemaker Geox SpA in Wuhan, capital of Hubei province.[Provided to China Daily]
Italian shoemaker inks distribution agreement with Pou Sheng International to set up 350 new stores by 2020
Italian shoemaker Geox SpA is looking forward to making the most of the rise of the 109-million-strong newly affluent, quality-conscious and brand-happy Chinese middle class consumers.
On Nov 19, Geox signed an exclusive distribution agreement with Pou Sheng International, a Hong Kong Stock Exchange-listed sportswear retailer for brands such as Converse, Rockport and Keds with 4,586 retail outlets and another 2,691 sub-distributors across China.
The Geox-Pou Sheng agreement will also spawn 350 new stores by 2020, including standalone single-brand outlets and presence in high-end footwear retailers, malls and department stores.
Geox is undeterred by the exponential growth of e-commerce in China. It believes bricks-and-mortar stores still have enormous scope.
The Chinese middle class "is definitely the best thing" that could have happened to Geox, according to Giorgio Presca, its chief executive officer. "On the one hand, the rise of the middle class will boost the economy. On the other, it is the perfect thing for brands like us."
According to the Global Wealth Report 2015, released by Zurich-based investment bank Credit Suisse in mid-October, China's middle class have overtaken their US counterparts who number 92 million. Credit Suisse defines middle class as people who have a personal wealth, which is not equal to annual income, between $50,000 and $500,000.
Presca says Geox's target consumers are middle class people aged between 25 and 35 who have their own families.
The company's stores will seek a prominent presence in China's first-tier cities as shopping at physical stores has become the top leisure activity for consumers, particularly females, in line with a global urban trend.
That is not all. Based on the same-store revenues this year in China, Geox is eyeing 17 percent-plus growth rate, higher than that elsewhere. Still, the Chinese market currently contributes only 2 percent to its global turnover.
So, prominent presence, yes, but not by way of huge flagship stores. Instead, focus will be on stores that can fulfill consumer needs. Down the line, online-to-offline operations appear possible. In Europe, Geox has tested O2O at some stores, enabling consumers to buy online and return or exchange at physical stores.
The focus on the bricks-and-mortar model does not mean Geox is overlooking e-commerce possibilities in China. In fact, it has been able to reach many consumers across China via various digital platforms, Presca said. But the price-sensitive Chinese e-commerce industry does not lend itself to sales of quality-driven brands such as Geox, he said.
For now, Geox appears content to leverage on Pou Sheng's network, which also includes regional joint ventures that operate 504 outlets and 340 sub-distributors.
According to Geox's latest fiscal report, group-wide revenue in the first nine months of this year rose 6.1 percent year-on-year to 708.9 million euros ($748.9 million), thanks to positive performance of multibrand channel and of comparable sales in both directly operated monobrand stores and franchised monobrand stores.