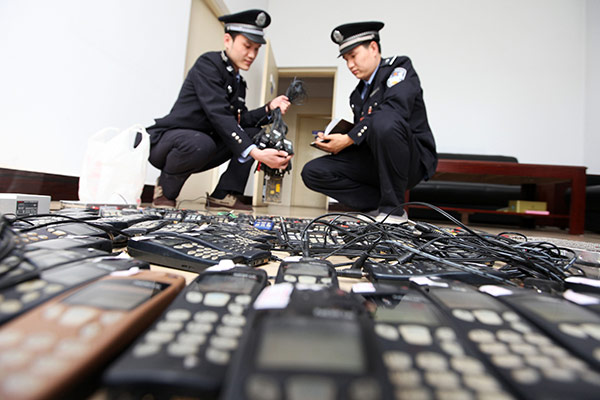 Equipment used by fraudsters to con mobile subscribers on display at a police station in Xuchang, Henan province.[NIU SHUPEI/CHINA DAILY]
Several months ago, I wrote in China Daily about the need to fight unwanted marketing or fraudulent messages on the cellphone. The irony was that despite my vigilance, I almost fell prey to a nationwide phone fraud.
It happened when I received a reminder from China Mobile that my reward points were about to expire and I could click on the attached Web link to convert them into hundreds of yuan in cash.
At any point, I have thousands of accumulated points that I often use to top up my mobile data, which I consider another marketing gimmick from carriers to generate more usage.
But unsuspecting users like me soon found the money as elusive as the unicorn while we divulged confidential information about our bank cards on the recommended website. As I grew suspicious after several failed attempts, I called China Mobile and was told the company had never had such promotions.
Its customer service staff said that conmen had falsified their number, and the company could not be responsible for any damages caused by the perpetrators.
I'll omit the hassle of freezing my bank cards and living for weeks without one as my banks reviewed my replacement requests. It was insignificant compared with the losses of those victims whose accounts were cleaned out. At its worst, thousands of Chinese cellphone users had fallen victim every day nationwide since the scam started two years ago.
While I continued to receive fraudulent messages via the faked number, I was more perplexed why a telecom behemoth that boasts the world's largest mobile network and customer base could appear so powerless and for so long, when dealing with tech thieves.
To be fair, spam has been a chronic problem and is difficult to curb. Petty perpetrators can interrupt a cellular network and blast indiscriminately a whole shopping area or up-market neighborhood, with small gadgetry mounted on a vehicle or even a motorcycle.
But since I wrote last time, it seems to have taken a more vicious turn as criminals took to falsifying the numbers of mobile carriers or banks or the police to steal cellphone users' financial information for illegal withdrawals or purchases. The data can also be sold to fraudsters who may be based overseas, but will call and con domestic targets.
As such frauds escalated and spread, there has been finger pointing over who bears the main responsibility for stopping the crime wave.
We could blame the loopholes in the Chinese laws and rules that have never amounted to serious deterrent to phone scams. Or consumers should kick themselves for being gullible or tolerant of spam that has become part of the Chinese mobile life.
However, to nip the problem in the bud, mobile carriers will need to ramp up their fraud detection and prevention efforts. To some critics, the long, rampant criminal use of a major mobile carrier's hot-line number speaks volumes of the laxity of cellphone security at every level.
I have been anticipating calls after the scam and installed free harassment detection software on my cellphone. The first call came on a recent Sunday morning when a woman with a southern accent introduced herself as an officer from a Beijing police bureau and she inspired awe with her knowledge of my personal details.
I took a glance at my cellphone and saw an alert on the screen: "Swindler posing as police, reported by 8 users." Meanwhile, the woman began to sound hilariously ridiculous as she warned me about a pending police subpoena, which was a common scam that would eventually help fraudsters to get into one's bank accounts.
But it was no laughing matter. After I hung up, I could see through my mind's eye that the unflustered impostor moved on to call her next target, probably with a more convincing outgoing number.