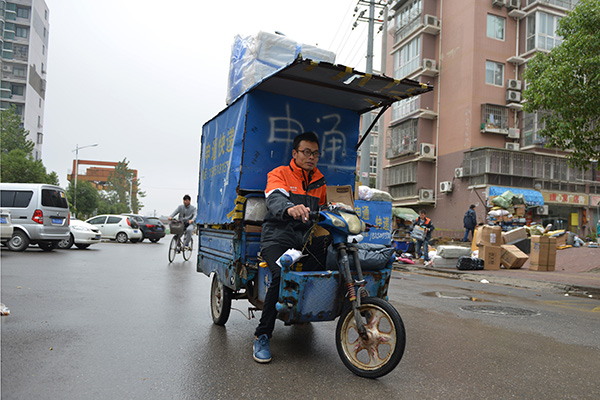 A man drives an STO Express pedicab in Nanjing, Jiangsu province. Cheap three-wheelers are common on streets in China as the last-mile backbone for fast-growing logistics companies to deliver packages. [Photo provided to China Daily]
The days of cheap delivery pedicabs may soon end with standards on the way for the last-mile backbone of logistics firms to deliver orders from Alibaba Group Holding Ltd, JD.com and others.
The freewheeling delivery method has caught the State Council attention, prompting a notice in October on national production and use standards for electric-powered pedicabs with local governments allowed to set rules according to facts on the ground.
The move was welcomed by an industry expert who said many of the unlicensed pedicabs, or sanlunche in Chinese, sporting a massive metal box on the back were built with low-cost materials and are dangerous on busy streets.
"Without a common set of standards, many manufacturers are profiting from selling risk-prone pedicabs at very low prices," said Xu Yong, chief analyst of cecss.com, a logistics consultant website, adding that they are essentially illegal vehicles that lack even license plates.
"Many deliverers have to buy the pedicabs themselves. They would rather go for cheap ones because once the vehicle gets confiscated for illegal driving, they won't lose much by replacing it with a new cheap cab."
In fact, an express company with fewer than 100 pedicabs had to pay more than 600,000 yuan ($94,020) in fines a year, according to a survey by China Express Association in Suzhou.
But that could be considered a small price to pay as demand booms for the service and the pedicabs that now number around 150,000 across China, according to the statistics from China Express Association.
"The express industry is the fastest-growing industry in logistics," said Wang Yaoqiu, dean of the logistics institute of Beijing Jiaotong University.
"It's understandable that the administration cannot catch up with it because it is developing too quickly.
"There will be an industry consolidation once new regulations are made as small and low quality pedicab manufacturers get eliminated and large ones survive," Wang said.
The use of pedicabs are crucial for logistics firms. That can be seen in Inner Mongolia autonomous region's capital Hohhot where they were banned, prompting a firm to rent horses to deliver packages after the Singles Day on Nov 11, an annual online shopping spree.
Some companies are already upgrading their pedicabs. Wang Quanfeng, a Beijing-based station chief for SF Express, said the firm buys in bulk from large pedicab manufacturers to ensure good quality and gets insurance for each one.
"We are super busy at the moment in the wake of the buying spree on Nov 11. My station is packed with tons of packages coming from all over China. I couldn't imagine what to do with all these packages if the pedicabs are banned," said Wang.
For Zhang Minghua, a pedicab driver at Hangzhou-based Best Express, fast delivery holds the promise of growing business even as the danger of accidents lurks for drivers in too much of a hurry.
"These cabs are functional and easy to operate," said Zhang. "One does not have to have a license to drive them. It is small so that I can maneuver in tight traffic and small lanes in residential communities. Yet at the same time the metal case is large enough to hold a lot of packages."