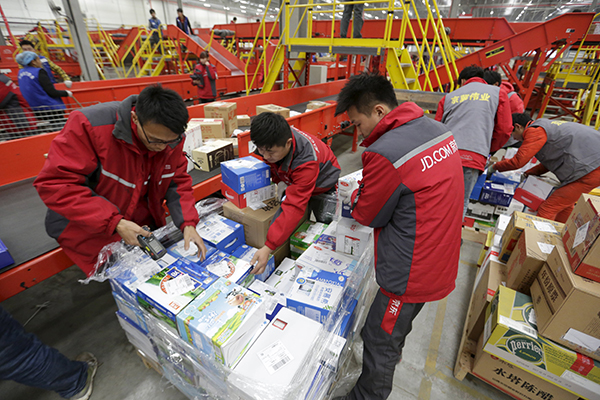 Employees working at a JD.com logistic center in Langfang, Hebei province. [Photo/Agencies]
A leading French engineering company is tapping into China's booming e-commerce market by selling energy-saving technology to logistics firms.
Fives Group, which designs and supplies machines, process equipment and production lines for the world's largest industrials, has rolled out small power-generating wheels for conveyor belts.
"Once the conveyor belt is moving, our supporting wheels start to generate power," Frederic Sanchez, chairman of Fives, said.
"The technology can keep an automated sorting system running when there is a power outage and help reduce electricity consumption by 20 percent."
The wheels are part of an automated logistic system that Fives, which employs 8,000 staff and operates in 30 countries, hopes will revolutionize a key part of the e-commerce sector.
Earlier this month, the company signed a deal which will eventually be worth about 200 million yuan ($31.3 million) with JD.com Inc, the second-largest online retailer in China.
Under the agreement, Fives plans to help JD.com build two smart logistics centers in Beijing and Kunshan, a city in Jiangsu province, and equip them with automated sorting lines.
"Our conveying belts can travel at 2.6 meters per second, which will enable JD.com to sort 36,000 parcels an hour in its new Beijing facility," Sanchez said. "This is far more efficient than manual sorting."
Fives' decision to expand its presence in China is hardly surprising. Logistics operations, including express delivery companies, are experiencing explosive growth due to the e-commerce boom. Speed has become a priority in sorting and delivering millions of packages a day.
"The courier industry in China is far less automated than that of other countries," Xu Yong, chief consultant for the express and logistics website cecss.com, said. "These companies are reluctant at first to make initial investments because automated equipment is pretty expensive."
An automated sorting system for a large operational center can cost up to 100 million yuan ($16 million), an industry resource expert said, without wishing to be named.