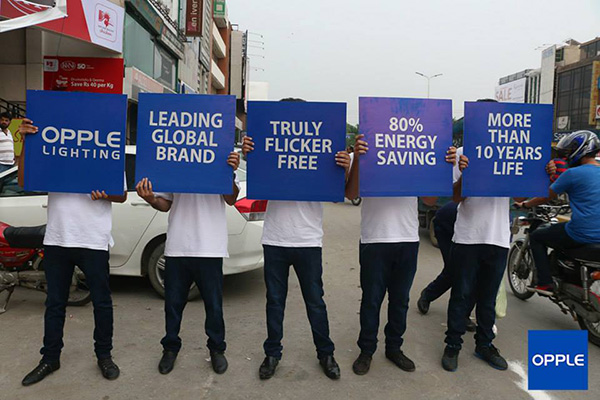 Opple celebrates its first showroom opening in Lahore, Pakistan, in August this year. [Photo provided to China Daily]
Chen Yun has his eyes fixed on international markets as his Chinese lighting company becomes a leader in LED technology
A push to merge and grow China's lighting industry at home, and expand abroad, has shaken up foreign and domestic manufacturers and also led Chen Yun to make a big decision.
Chen went local, joining top domestic lighting firm Opple Lighting Co Ltd at the start of the year from German lighting firm Osram Light AG, where he worked at its Munich office for four years before heading to Hong Kong for several more years.
The switch, however, was more than multinational to local.
At Osram, Chen spent his days working to crack the Chinese market. Now he will look to expand China-based Opple's reach abroad into the booming market for LED products.
Consulting firm McKinsey & Co calculated the LED share in general lighting will reach 45 percent in 2016, and close to 70 percent by 2020, when the total market size is expected to reach 100 billion euro ($106 billion).
In 2014, "we believed the seed is ready to grow up into something big. For us, being global doesn't just mean selling our products worldwide or having offices everywhere. The mission is to make Opple the synonymous for valuable lighting", Chen, general manager of the international business unit, said in an interview with China Daily at Opple's Shanghai headquarters.
Chen, 39, described his role as "challenging and interesting" as he leads a team of 150 or so people overseas and in China.
The firm's humble roots trace back to Wang Yaohai and Ma Xiuhui, the couple who founded Opple in 1996, working with a staff of six in a shabby workshop in Guangdong province, China's hotbed of low-cost manufacturing.
LED lighting was the couple's breakthrough after two years of wholesaling cheap light bulbs and tubes. They hit on the Chinese word oupu-which literally means European standard for all.
"It's an ambition, or a seed, planted from the very beginning," said Chen.
Chen says this entrepreneurial vision has given Opple an edge. Companies and governments around the globe are rushing to make a transition from traditional lighting technologies to LED to save energy and fight climate change.
That also means performance targets, and Chen has his work cut out. He aims for revenue from overseas sales to account for more than half of the company's total in the next five to 10 years from about 10 percent now.