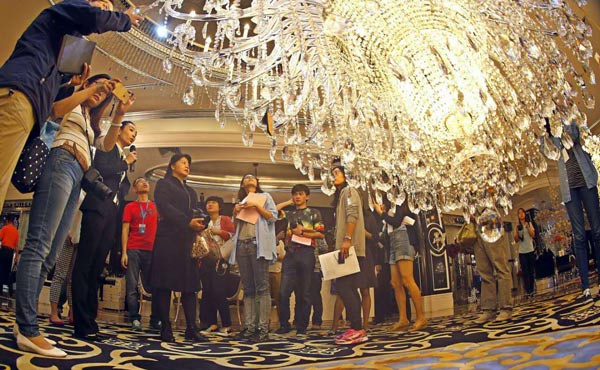 Visitors take a look at a lighting products made by Zhongshan Kinglong Lighting Co Ltd in Guzhen township, Guangdong province, Nov 11, 2015. [Photo by Li Baojun for chinadaily.com.cn]
There has been an exponential growth in the lighting industry in recent years as improvements in the country's intellectual property environment give a boost to domestic innovations and entrepreneurship.
"There is an increasing demand for IP protection in the industry partly as a result of more interaction with foreign businesses," said Hou Yumei, director of an intellectual property protection center in Guangdong's Zhongshan city.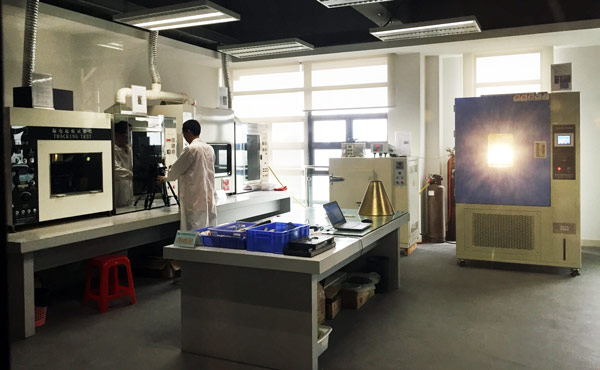 A researcher is seen testing a lighting product at a national testing lab set up by Huayi Lighting Co Ltd, Nov 11, 2015. [Photo by He Yini / chinadaily.com.cn]
"It's also because of rising awareness among Chinese companies to protect their own inventions, patents, trademarks, and copyrights," added Hou.
The center, set up in the city's Guzhen township crowned as the "lighting capital" in the world's second-largest economy, is a one-stop institution with a mini-court offering legal services for local companies, part of efforts in the industry's IP protection drive.
Lighting companies in Guzhen, selling more than 70 percent of lighting products in the domestic market, have been extending their global outreach in recent years along with home-grown brands of high quality and unique designs.
Candy Lin, head of the overseas sales department of Zhongshan Kinglong Lighting Co Ltd, said: "IPR is crucial to a company that values its innovations, whose infringement could largely undercut its enthusiasm for continued R&D investment."
The company, which owns more than 400 lighting patents, has gained a strong foothold in overseas markets, including Europe, the United States, and Russia, which contribute 70 percent of its total sales on average every year.
Lin didn't reveal the company's annual sales revenue, but said that about 80 percent of it comes from selling its new products and 5 percent goes to its research and development.
Lu Weilin, board secretary and chief financial officer of Huayi Lighting Co Ltd, said that Chinese lighting products have been increasingly accepted worldwide, but there's "demand for a more streamlined patent market in order to push forward."
"Filing lawsuits and trying to win them are too costly as well as time-consuming, with no guaranteed success," he said. "In order to secure our market share, we'd rather invest more in R&D and fight the counterfeiters with more new products. But it costs a lot."
It's a lose-lose situation for both leaders and followers in the industry. And more important, the counterfeiting jeopardizes the overseas image of made-in-China products, said Lu. "That's why we need more government support and bigger anti-piracy efforts."
Huayi Lighting, which has about 300 lighting patents, sold 40 percent of its products overseas worth about 1 billion yuan ($157 million) last year.
The company set up a national testing lab in 2009 with a system that combines enterprises and universities, including Tsinghua University, and research institutes to enhance innovative capabilities in the lighting industry.