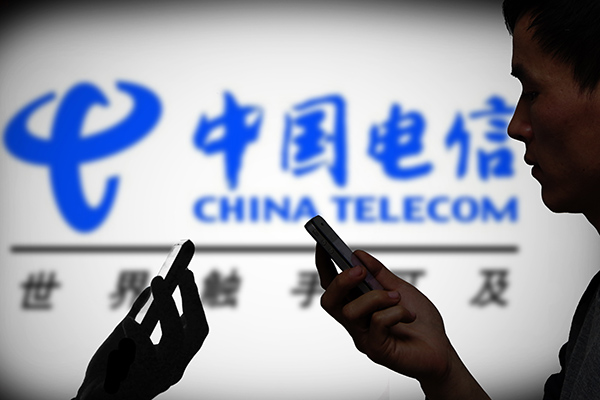 People check out their mobile phones in front of China Telecom's billboard in Beijing. [Photo provided to China Daily]
Telecom's Shanghai center is starting to produce online businesses while its rivals roll out new plans to boost shrinking revenue
Liang Duguo always knew he could return to his old job when he first launched Shanghai Yi Xing Information Technology Co Ltd in 2013.
The 47-year-old was a senior product manager at China Telecom Corp Ltd, the country's third-largest carrier by the number of subscribers with 194 million customers.
But the chance to branch out on his own and turn an entrepreneurial dream into reality proved too alluring. He was also cushioned by the promise that he could go back to his old position at the State-owned telecom giant if his venture failed.
"They said I could return and take up a position at the same level," Liang, who had spent 20 years at China Telecom, said. "That special policy gave me the courage to think about operating my own business."
So far, his decision to set up Shanghai Yi Xing has proved successful. The company offers real-time traffic information to firms specializing in mapping and navigational services, as well as government agencies, by using mobile signals generated by China Telecom customers, without compromising personal data.
"We raised about 10 million yuan ($1.56 million) from investors earlier this year and now we are serving several enterprises," Liang said, without disclosing further detailed information. "We are quite optimistic about our business."
But he could not have achieved this without the help of China Telecom.
During the past three years, Liang has been just one of up to 5,000 employees at the behemoth that have taken advantage of this "safety net" to roll out their own businesses or join startup teams.
By cultivating a pool of online-savvy people, the company hopes to create new revenue streams.
The first steps were taken in 2012 when China Telecom unveiled a 10,000-square-meter "innovation center" in Shanghai, the first of its kind among SOEs.
This has allowed employees to work on new projects until they grow into independent companies. If they fail, they can return to their old jobs.
In addition to the normal startup services such as office space, financial incentives and mentoring classes, the group's staff can also access telecommunication network resources, tap into the technology support system and marketing network operations.
A fund of up to 200 million yuan has been put aside to invest in these startups.
"We are sparing no efforts to learn from Internet companies about how to inspire innovation," Li Anmin, general manager of the innovation business department at China Telecom, said.