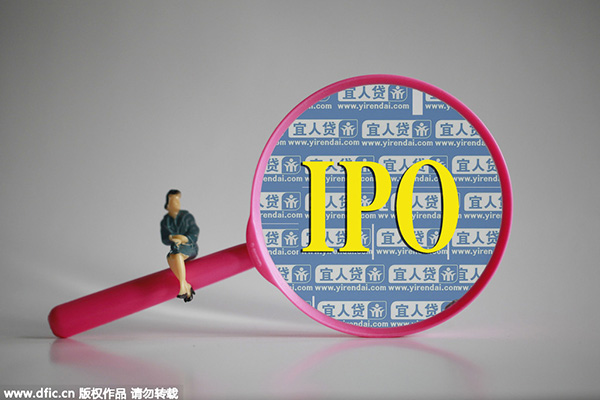 CreditEase subsidiary to use public float proceeds for general corporate purposes
Yirendai, an online consumer finance marketplace, is planning to raise $100 million in an initial public offering on the New York Stock Exchange.
The peer-to-peer lending platform, a wholly owned subsidiary of online finance firm CreditEase, was set up in 2012 and currently has more than 7 million registered users and has facilitated more than $10 billion lending transactions.
Yirendai intends to list its American depository shares on the New York Stock Exchange under the "YRD" symbol. If successful, it will become the first Chinese P2P lender to be listed on the NYSE and will start trading in December.
The company, however, did not disclose any further information on the issue or its pricing due to regulatory constraints.
Yirendai is one of the few companies in China that provide loans through mobile applications. Its IPO prospectus said that the company has facilitated more than $151.7 million in loans through mobile applications in 2014 and for the first six months of this year, accounting for 25 percent of the total loans facilitated through its entire marketplace in the respective period.
CreditEase was founded in 2006 in Beijing, and has received backing from leading private equity firms such as KPCB, IDG Capital Partners, and Morgan Stanley Private Equity Asia, according to its website.
Its main businesses are to provide financial products and services to urban and rural residents, including small and micro enterprise owners, salary workers, college students and rural households.
Yirendai said it intends to use the IPO proceeds for general corporate purposes and added that Morgan Stanley, Credit Suisse, China Renaissance and Needham would be the underwriters for the issue.
Market researchers said inclusive financial services are currently in demand in China, and the market size has been expanding.
According to a research report from the Shanghai-based Yingcan Consultancy Ltd, loans facilitated through P2P loan platforms in China were about 313.7 billion yuan ($49.32 billion) in September, a 14.68 percent month-on-month increase and 490 percent year-on-year increase. The amount is expected to exceed 400 billion yuan by the end of this year.
"Listings by P2P marketplaces are set to increase in 2016," said Ma Jun, chief researcher with Yingcan Consultancy.
According to analysts, growing nonperforming loans and unstable financing platforms have been hampering the growth of inclusive financial services in China. As a result there is a huge demand for P2P services in regions where poverty alleviation is a top priority.
Currently most of the P2P services are provided to borrowers and investors in first- and second-tier cities like Beijing, Shanghai, Shenzhen, and coastal provinces with relatively higher average disposable income.
Residents in remote regions who need funding to renovate houses, buy new farming equipment, and pursue higher education may need more inclusive financial services, said Han Liwan, account manager with Shanghai-based Yingyi Microcredit Ltd.