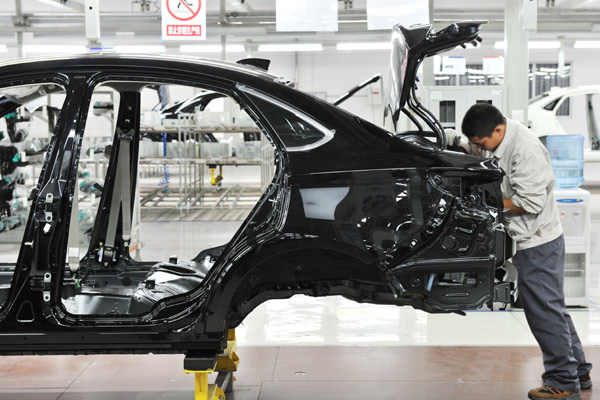 An employee working on the assembly line of BAIC Motor Corp Ltd in Beijing. [Photo provided to China Daily]
BEIJING - China's value-added industrial output expanded less in October, partly due to a slowdown in the country's mining and energy sectors, data from the National Bureau of Statistics (NBS) showed on Wednesday.
China's value-added industrial output expanded 5.6 percent year on year in October, slightly down from 5.7 percent in September, according to the NBS. Year-on-year growth in the first ten months stood at 6.1 percent, dipping from 6.2 percent in the first three quarters.
Manufacturing output expanded 6.7 percent, the same growth rate as the previous month. Mining output growth further slowed to 0.4 percent from 1.2 percent in September. Meanwhile, the output of the electricity, heating, gas and water sectors lost 0.3 percent, while September saw 0.7-percent growth, the bureau said.
State-owned enterprises continued their weak performance in industrial output last month, but the drop narrowed to 0.5 percent from the 1.4-percent growth registered in September.
The country's industrial sector is still battling overcapacity, which will continue to put downward pressure on the field in the short term, said NBS spokesperson Sheng Laiyun.
NBS statistician Jiang Yuan attributed the slower growth to insufficient impetus from emerging industries amid reforms, and industrial output still faces downward pressure.
Monday's data also showed that industrial output in China's central regions rose 7.7 percent in October year on year, followed by 7.6 percent in western areas and 6.5 percent in eastern regions. Industrial output in northeastern areas extended losses by 4.6 percent from 1.8 percent in September.
China uses value-added industrial output to measure the final value of industrial production, or the value of gross industrial output minus intermediate inputs, such as raw materials and labor costs.
The NBS data only track the output of large Chinese companies with annual primary business revenues of more than 20 million yuan ($3.14 million).