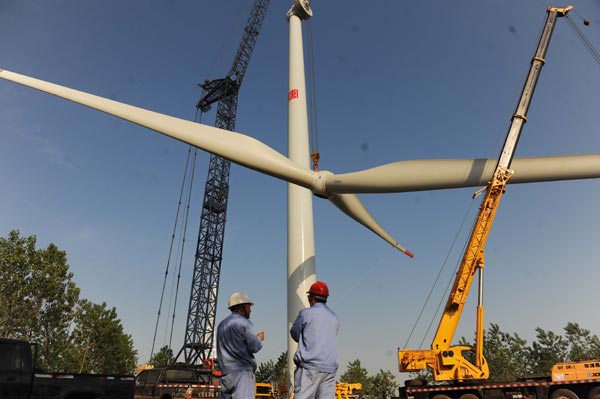 A wind farm under construction in Chuzhou, Anhui province. [Photo/China Daily]
SYDNEY - China is set to become the global leader in renewable technology, aiding the rise of a moderately prosperous society following the significant reforms implemented in the five-year plans.
Frederic Neumann, co-head of Asian Economic Research at HSBC, told Xinhua in Sydney that China will become a global leader in environmental technology as the sector becomes more globally important.
"China leapfrogged certain technology, going to the advanced stuff more quickly and that's a positive product from China's anti-pollution policy," Neumann said.
China's move into this space likely adds competitive pressure on the renewable energy sector as the world slowly transitions into a green economy.
"Which at the end of the day is positive because it means more efficiency gains, cheaper products (and) better products," Neumann said.
"It used to be that China drove the commodities side of things. Now China's so large it drives the global economy," Neumann said.
"If China slows down it will drag on global growth. So it's in everybody's interest that China maintains its reforms and thereby sustains its growth rate."
China is currently one of the only "bright spots" on the global economy with others struggling from the hangover of the global financial crisis, Neumann said.
"Therefore we really need China to pull through."
Australia's ex-Foreign Minister Bob Carr told Xinhua that China will become a moderately prosperous society through the significant reform process that is creating a booming middle class which is expected to add an additional 850 million members by 2030.
However, the world is looking to China to implement its environmental reforms to create a "green" China, Carr said.
"You can't be a moderately prosperous society and having air that's dangerous to breath," Carr said.
China has announced enhanced internal environmental protection systems designed to reduce carbon emissions and conserve resources while spurring an "energy revolution" in alternative energy to help boost economic growth.