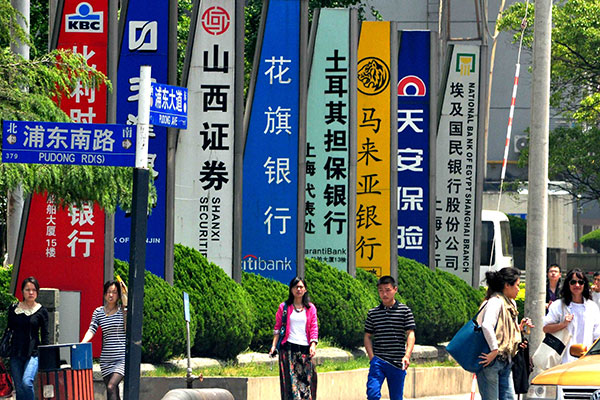 Pedestrians walk past hoardings of foreign banks in Shanghai. FDI into the manufacturing sector has been waning in the first seven months, whereas it has been rising in the services sector. [Yan Daming/China Daily]
BEIJING - Foreign direct investment (FDI) into the Chinese mainland rose 4.2 percent year on year to $8.77 billion in October, the Ministry of Commerce told Xinhua on Wednesday.
The growth slowed from a 7.1-percent rise in September.
For the first 10 months, FDI, which excludes investment in the financial sector, stood at $103.7 billion, up 8.6 percent from the same period last year.
Foreign investment in the service industry rose 19.4 percent, with the high-tech service sector seeing a jump of 57.5 percent to $6.76 billion.
High-tech manufacturing attracted $7.58 billion of foreign investment during the January-October period, up 11.6 percent and accounting for 23.3 percent of total foreign investment in manufacturing.
Investment from the ASEAN, European Union, Hong Kong, and Macao continued to grow fast, while that from Japan, the United States and Taiwan dropped significantly.
The ministry also noted that more foreign firms invested in China through mergers and acquisitions, which accounted for 15.4 percent of the total FDI in January-October, up from 6 percent in the same period last year.