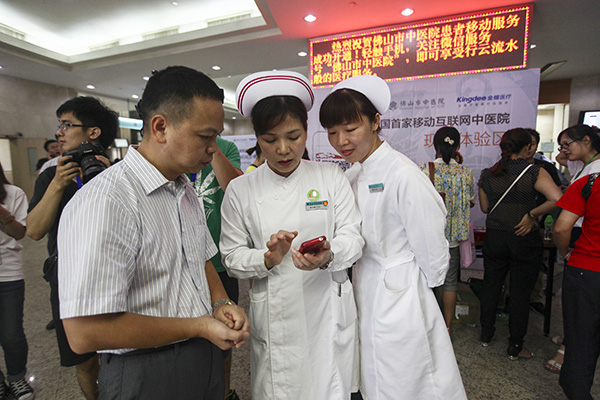 A medical worker shows a patient how to use WeChat to access hospital services in Foshan, Guangdong province. [Photo provided to China Daily]
BEIJING - China's online healthcare market is estimated to be worth 17 billion yuan ($2.7 billion) this year, an industry report said Tuesday.
Last year, it was worth 10.9 billion yuan, indicating strong growth momentum, according to iResearch.
Medical and healthcare services are not evenly distributed in China, with 80 percent of them in big cities. Hospitals in Beijing, Shanghai and Guangzhou are notoriously crowded as patients across the country swarm to visit experienced doctors.
Companies such as Spring Rain and Kingdee are wading into the online market to make health care more accessible. Kingdee launched "M-health", (or Mobile Internet Health) last year and forged a partnership with 160 hospitals by August.
"Within a year since we went online, we have had more than 1.3 million subscribers and served more than 100 million patients. The number of transactions on the platform hit more than 2.5 million," said Chen Dengkun, general manager of Kingdee Healthcare and Medical Software Technology Co Ltd.
Online healthcare will become more popular due to good service and convenience, said Zhang Rui, CEO of Spring Rain.