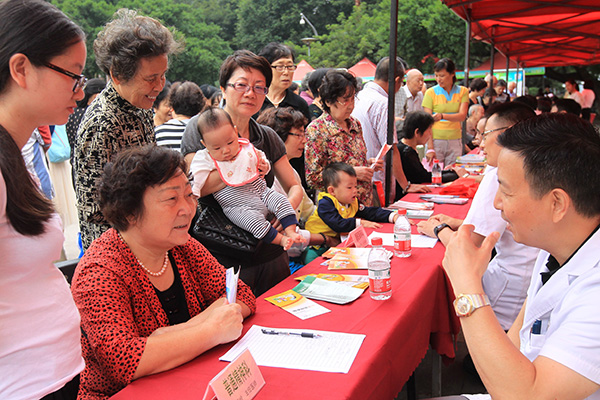 Doctors from Kangning Hospital in Wenzhou, Zhejiang province, offer consultation services to local residents during a recent promotional event on mental health. [Photo/China Daily]
Wenzhou Kangning Hospital, China's largest private psychiatric health care group by revenue, launched its HK$680 million ($87.7 million) initial public offering on the Hong Kong stock exchange, as part of its efforts to raise additional capital for business expansion.
The Wenzhou-based company is selling 17.6 million shares at a price range of HK$32.10-HK$38.70 ($4.14 to $4.99) each. Pricing is based on a conservative price-to-earnings ratio of 22 to 26 times of the anticipated 2016 earnings.
Shares are expected to be priced on Friday, and will be inducted for trading on Nov 20, the company said in its offer document.
Awareness about mental health has been increasing in China in recent years, along with the growth in living standards. Spending on mental health checks, medication and care has also risen in the country.
Room for profits in the sector is on the rise, said a research note from Orient Securities Co Ltd.
According to Kangning's disclosures, gross profit margin of the group, which runs five hospitals directly and manages psychiatric departments of three medical institutions, was more than 40 percent in 2014.
Kangning's offer document, citing data from consultancy services provider Frost & Sullivan's report, said that China has more than 180 million people with various types of mental disorders and many do not have access to proper treatment and care yet. This shows the immense market potential in the long run, the report said.
Market researchers said that demand for medical treatment and care services for people with mental disorders is huge, and high-end, privately owned service providers are benefiting from authorities' shifting priorities on how to spend public funds in the health care sector.
"High-end services are not encouraged in State-owned hospitals and care centers because the government has put more focus on basic, affordable services to enable greater number of residents to have easy access to such services, which leaves more room for private hospitals to expand premier services," said a research report from Shanghai-based Guoyuan Securities Co Ltd.
Shares of privately owned hospitals have been in the limelight recently after the central government released a circular encouraging development of the sector.
More than 20 companies in the sector have been listed in Shanghai and Shenzhen bourses by November this year, and more are waiting in the IPO pipeline.
Kangning is the second private hospital from the Chinese mainland to be traded in the Hong Kong bourse, after Beijing-based Harmonicare Medical Holdings, a maternal and pediatric care specialist, was listed in October.