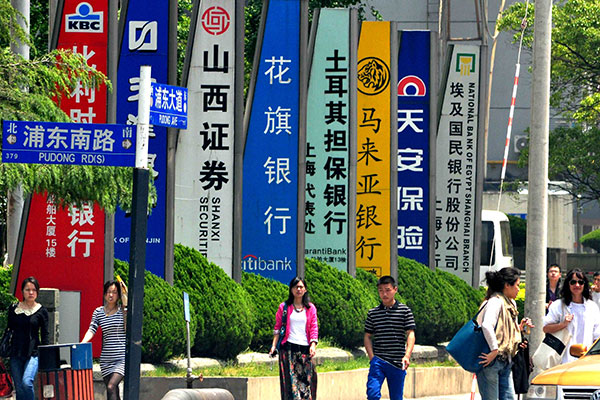 Pedestrians walk past hoardings of foreign banks in Shanghai. FDI into the manufacturing sector has been waning in the first seven months, whereas it has been rising in the services sector. [Yan Daming / China Daily]
Currency changes to have a limited impact on flow of investments from major economies
Foreign direct investment into China is expected to remain stable in the longer term after the nation devalued its currency to put economic growth on a firmer footing earlier this week, experts said on Thursday.
China's foreign direct investment rose by 5.2 percent in July to 50.55 billion yuan ($7.89 billion) from the same period a year ago, a 0.7 percent growth from the previous month, the Ministry of Commerce said on Thursday. FDI into China grew 7.9 percent year-on-year to 471.1 billion yuan between January and July this year.
Huang Feng, deputy director-general of the Ministry of Commerce's department of foreign investment administration, said investment from major countries and regions including the United States, the European Union and the Hong Kong Special Administrative Region showed a steady growth during the first seven months.
Official data showed that the FDI into the manufacturing sector has been waning in the first seven months, whereas it has been rising in the services sector. Most of the FDI from Europe and other developed nations is already flowing into the services sector with an overwhelming focus on high-end manufacturing.
"The healthcare, information services and high-tech industries are being slowly developed in the country compared with its economic development. There should be more foreign capital and technologies in these sectors," said Huang.
Wang Zhile, a senior researcher at the Beijing-based Chinese Academy of International Trade and Economic Cooperation, said inbound investment from neighboring countries like Vietnam, South Korea and Malaysia may be affected as their currency exchange rates against the US dollar have fallen in the past two days. In addition, most of the economic growth for these countries comes from trade with China.
"Even though China has lost its global edge in low-or even medium-end products, it still has advantage in economy of scale in manufacturing and in the size of its huge domestic market," said Wang.
Despite labor in China becoming more costly than those in Africa, Southeast Asia and other developing economies, labor bills are still much cheaper than in most developed nations.
The country also needs more foreign technologies, funds and human capital to grow a green, sustainable economy through various FDI activities.
He Jingtong, a professor of investment at Nankai University in Tianjin, said: "As China is moving up the value chain amid the 'new normal' of slower, quality growth, the progress has reshaped many of the nation's economic policies and practices."
He said the development of new-energy vehicles, hydropower, wind power, nuclear power and LNG-powered ships in China can really benefit international firms as they are proficient in using green and high-tech technologies.