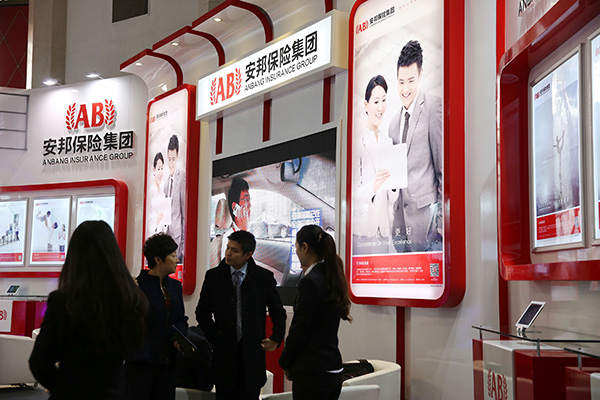 Visitors at the Anbang Insurance Group Co Ltd booth at a financial industry expo in Beijing. [Photo provided to China Daily]
Beijing-based Anbang Insurance Group Co is to buy the United States-based life insurer Fidelity & Guaranty Life Co for about $1.57 billion as part of its overseas expansion plans.
The Chinese firm will pay $26.80 for every Fidelity share and the acquisition, when complete, will make Anbang one of the largest insurers by market share in fixed annuity products in the US, according to the company. Financial holding company HRG Group Inc is Fidelity & Guaranty Life's major stockholder.
"This transaction will bring value to customers of both Anbang and FGL," Anbang said in a statement. It said that the acquisition is consistent with Anbang's investment strategy, "which is focused on globalization".
The deal is pending regulatory approval and is expected to close in the second quarter of 2016.
Chris Littlefield, president and CEO of Fidelity & Guaranty Life, said the deal sets the company on a "good path for continued success".
"Our expertise ... coupled with Anbang's resources, will allow us to continue to grow our business and serve our customers."
Maurice Greenberg, CEO of CV Starr & Co Inc and former CEO of insurance giant AIG Inc, said the acquisition will give Anbang more presence in the US.
Robert Hartwig, president and economist of the Insurance Information Institute, said that the insurance business is becoming "even more global in nature", with a large number of cross-border deals occurring in life insurance and reinsurance.
"This is part of a larger trend that we're seeing around the world," he said, "and particularly with respect to Asian investors, we're seeing investments and insurers as part of a larger effort to diversify portfolios among the Chinese investors. Many of the investment entities in China that are purchasing insurers are also purchasing such things like real estate."
Chinese companies are making a bigger play in US insurance. In May, Fosun International Ltd bought the remaining 80 percent of Ironshore Inc that it did not own for close to $2 billion.
Anbang is known in the US for its purchase of the Waldorf Astoria New York hotel, which it bought for $2 billion, but it has been acquiring more insurance firms in Europe.
Anbang entered the Dutch insurance market earlier this year with the acquisition of VIVAT Verzekeringen, following its purchase of Belgium's Fidea Assurances last year.
Hartwig said that there is a great deal of capital in the US insurance industry, and for many Chinese investors, they see the returns as "reasonably good".