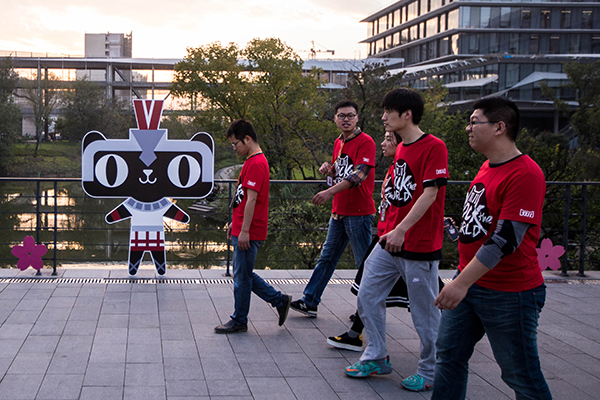 Employees walk past a signboard for the Tmall 11.11 online shopping festival in Alibaba Group, Hangzhou city, East China's Zhejiang province, Nov 6, 2015. [Photo/China Daily]
Chinese retailers link up with AliExpress for annual Singles' Day sale in bid to increase their overseas revenue
At a factory office in Daxing district of Beijing, a sales team chat with their customers online in Russian.
They are busy working on orders for Zhong Ding Tai Feng Trade Co Ltd, a manufacturer and exporter of women's down coats.
Back in 2008, the company's business in Eastern Europe boomed fueled by surging exports to 14 Russian-speaking countries.
But the recent economic slowdown has hit sales revenue and prompted the firm to link up with e-commerce giant Alibaba Group Holding Ltd during today's online shopping spectacular.
"The Nov 11 festival is the right time to attract more overseas customers, so they can learn about our brands," Tu Xiusheng, general manager of Zhong Ding Tai Feng, which was founded in 2003, said.
The company's move is a shrewd one. Alibaba, which launched the Nov 11 shopping day in 2009, plans to have 2 billion customers within the next 20 years. Singles' Day can help the online behemoth achieve its goal by raising the company's global profile.
To showcase its cross-border business, Alibaba's AliExpress, an Internet site dedicated to helping Chinese companies sell their products overseas, has teamed up with 70,000 domestic merchants, including Zhong Ding Tai Feng.
More than 54 million discounted items will appear on the shopping platform on Singles' Day to entice foreign customers.
Rita Hu, who is in charge of marketing at AliExpress, said that apparel and accessories, consumer electronics, as well as sports-related goods, will comprise the majority of products on offer.
"We are hoping to attract consumers from more than 200 countries and regions to shop on AliExpress during the 24-hour sale," she said.
"Russia, Spain, France, the United States, Brazil and Chile are expected to be our main markets."
Launched in 2010, AliExpress joined the Nov 11 shopping frenzy last year and processed more than 6.8 million paid orders.
Russian shoppers spearheaded the sales rush.
To attract even more overseas buyers, the shopping platform has been promoting Sin-gles' Day since mid-October via major social media sites in key international markets.
In Russia, AliExpress has even teamed up with major traditional bricks-and-mortar shops so potential customers can look at products, or even try them on, before ordering online. But then this attention to detail is all part of Alibaba's "going global" strategy.
This has become a priority not just for the Internet juggernaut but most of its e-commerce rivals in China.
Expanding into overseas markets is necessary to maintain strong growth, Lu Zhenwang, an independent analyst with Shanghai Wangqing Consultancy, said.
"Apart from bringing more foreign products to China, selling Chinese products overseas is also critical," he said.
Still, delivery times from domestic factories to individual international customers will need to be streamlined, Lu added.
To speed up the process, Alibaba has joined forces with postal services in foreign markets such as Singapore, the United Kingdom, Spain and Russia. "The majority of cross-border packages can now be delivered between 7 days and 30 days," Hu at AliExpress said.