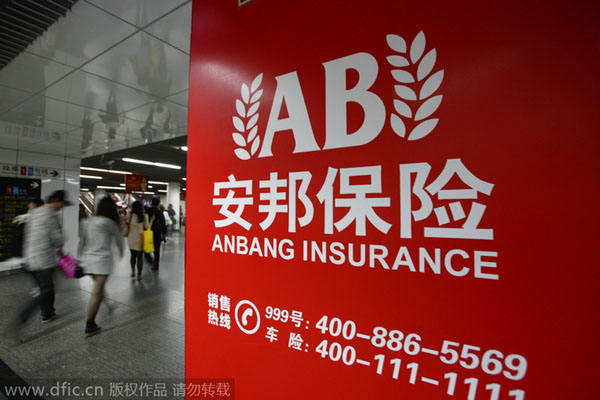 Passengers walk past an advertisement for Anbang Insurance Group at a subway station in Shanghai, Oct 18, 2012. [Photo/IC]
BRUSSELS - The buyout of Delta Lloyd Bank Belgium by the Chinese insurance company Anbang Insurance Group is concluded, the two companies announced in a statement Thursday.
The Chinese insurance company paid 206 million euros (about $226.6 million) to acquire the Belgian subsidiary of Delta Lloyd Group.
The transaction was announced in December 2014 for an amount of 219 million euros. Following the "additional negotiations" and after the green light from European and Chinese competition authorities, this amount was eventually reduced to 206 million euros.
The Dutch parent company of Delta Lloyd sold its banking activities in Belgium because she wants to focus on its insurance business.
Delta Lloyd Bank Belgium was born of the merger in 2001 between Bank van Limburg and Bankunie, and merged in 2002 with the prestigious Bank Nagelmackers 1747.
Delta Lloyd Bank Belgium mainly focuses on the segment of affluent and wealthy individuals clients seeking advice for their financial future. With a network of 114 branches, the bank offers its 171,000 customers a full range of products and services, including deposits, investment products, asset management and credit.
"We are proud to be part of the family Anbang from today. With the stimulating support of our new shareholder, we will continue to strengthen our strategic, focusing on the Personal and Private banking for affluent clients," said Piet Verbrugge, CEO of Delta Lloyd Bank Belgium.
Anbang is a leading insurance company founded in 2004 and headquartered in Beijing. It employs more than 30,000 employees and its assets amount to 120 billion euros.
In an official statement, Anbang Insurance Group said: "The acquisition of Delta Lloyd Bank Belgium is a milestone for Anbang. This is a step towards globalization."