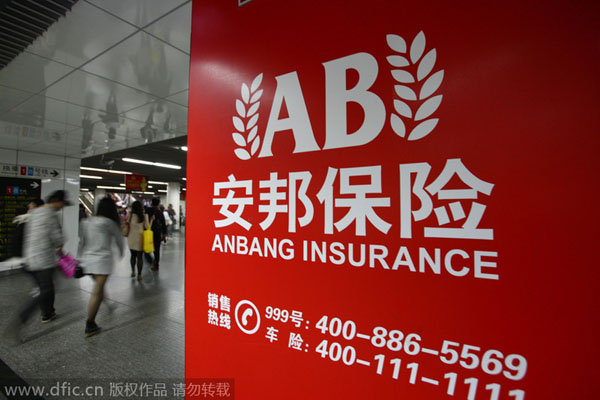 Passengers walk past an advertisement for Anbang Insurance Group at a subway station in Shanghai, Oct 18, 2012. [Photo/IC]
HAGUE - China's Anbang Insurance Group has acquired Dutch insurance company Vivat from nationalized banking group SNS Reaal, the Dutch Finance Ministry and the bank said Monday.
Under the agreement, Anbang will pay 150 million euros ($171 million) for 100 percent of the shares of Vivat, formerly known as Reaal NV, SNS Reaal said in a statement.
In addition, the Chinese company will inject 770 million to 1 billion euros to recapitalize the insurer and pay off 552 million euros in internal loans to SNS Reaal.
"I am pleased with the results so far," Dutch Finance Minister Jeroen Dijsselbloem said in a separate statement.
"This agreement provides clear perspective on Reaal, its employees and its policyholders. They just remain customer of Reaal Insurance (Vivat) and preserve their rights. The agreement with the wealthy Anbang will strengthen the position of Reaal," he added.
Due to major losses of its real estate branch Property Finance, SNS Reaal was nationalized by The Netherlands in early 2013.
As part of the restructuring plan, Property Finance was separated from SNS Reaal in December 2013. Since then, SNS Reaal has also been looking for a buyer of its insurance arm.
The deal between Anbang and SNS Reaal is subject to approval by Dutch and Chinese regulatory authorities, which is expected to be completed in the third quarter of 2015.
Related story:
Anbang plans acquisitions around world, by Bloomberg
Wu Xiaohui, the head of the Chinese firm buying New York's Waldorf Astoria Hotel, told Harvard University students of his friendship with Blackstone Group LP Chief Executive Officer Steve Schwarzman, his plans for deals around the globe, and the value of knowing how to say "ni hao."
Little known before last year's deal for the landmark property, Anbang Insurance Group Co has transactions pending in Europe, Asia, Oceania and Africa, its Chairman and Chief Executive Wu said in a question-and-answer session at a Jan 31 Harvard recruitment event, according to a transcript posted on the People's Daily website on Wednesday.
Staff members hunting for investments have "accumulated enough mileage to travel to the moon twice," Wu said.