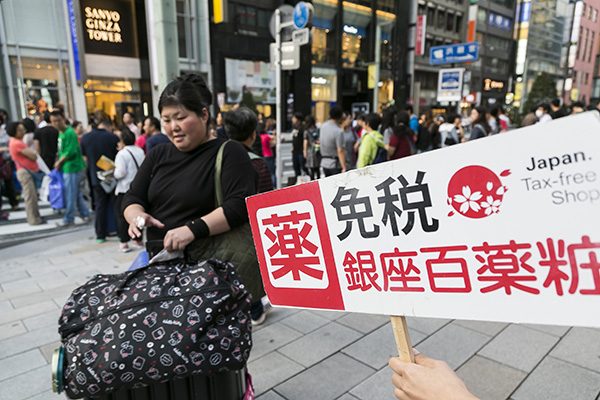 Chinese tourists shop in the Ginza shopping district in Tokyo during the Oct 1-7 National Day holidays. In the first nine months of this year, Chinese visitors made 3.8 million trips to Japan. [Photo/Agencies]
Travel agency joins hands with SoftBank for Alitrip venture
Japan's largest travel agency JTB Corp is expanding its online and offline presence in China, to cash in on the growing number of Chinese tourists to Japan.
JTB New Century International Tours Co Ltd, a joint venture between JTB and CITIC Travel Co Ltd, set up its first official outlet in Beijing on Friday. The joint venture, set up in 2000, is 51 percent owned by CITIC and the balance by JTB.
The new outlet will help increase the brand awareness of JTB in China and aims to provide tourists with experiences that are akin to those provided in Japan, said Shi Jianai, a sales assistant at the new outlet.
The Japanese travel giant has also joined hands with SoftBank Group, an Internet and telecommunications company, for an online store on Alitrip, the travel platform of e-commerce giant Alibaba Group Holding Ltd.
Alitrip expects the new platform to start operations on Wednesday to coincide with the online shopping festival on that day. It will provide travel products that are different from the routine ones offered by other agencies.
According to media reports, SoftBank, which has a 32 percent stake in Alibaba, is eyeing huge returns from the rising footfalls of Chinese tourists to Japan, with the market value expected to reach 20 billion Japanese yen ($208 million) by 2020, ahead of the Tokyo Olympic Games.
Convenient visa regulations, depreciation of the yen, and wider range of duty-free products to choose from are prompting more Chinese tourists to visit Japan, said Shi.
During the first nine months of the year, 3.8 million mainland tourists visited Japan, compared to 2.4 million for the whole of last year.
Jiang Yiyi, director of the China Tourism Academy-affiliated International Tourism Development Institute, said the annual growth rate in tourist numbers to Japan could surpass 50 percent this year.
However, outbound travel products from travel agencies that are owned by foreign entities are only allowed in some regions in China, such as Guangdong and Fujian provinces, said Jiang. The sector is yet to be opened fully to foreign investors.
"Chinese travelers with a multiple entry visa to Japan often want to do things more than just shopping, sightseeing and spas. They often look for in-depth and customized experiences," said Jiang.
In 2014, outbound travelers from China surged to 107 million trips, up 19.49 percent from 2013, according to the academy. Jiang said about 80 percent of the outbound travels were made to neighboring destinations.
According to Hotels.com, an online booking and reservation platform for accommodation worldwide, search data on Japanese hotels from Chinese visitors rose 110 percent during the autumn season.
Li Mengran, a tourist from China, recently took a trip to Japan. Li decided to take a cruise on board the Royal Caribbean Quantum with her husband and two-year-old daughter. The cruise and three-day trip were worth the efforts, she said.
"People have been very nice and helpful to us. Convenient public transport made the whole experience even more delightful," she said.