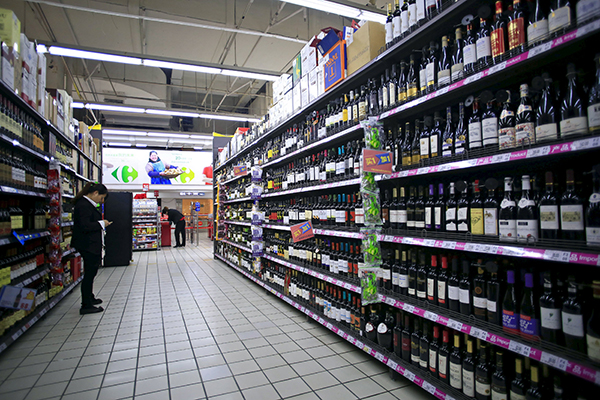 A sales assistant stands in front of shelves displaying imported wines at a supermarket in Shanghai. China's wine consumption dropped last year and the striking slowdown is a headache for the global wine industry. [Photo/Agencies]
The crates of Chateau Brehat wine from Bordeaux had gathered dust for three years in a bonded warehouse on the outskirts of Shanghai before the owners cut their losses in July, slashing three-quarters off the $50 price tag.
The fire sale was prompted by a huge oversupply of wine that had built up after a swarm of importers jumped at seemingly stellar growth from 2010.
China's wine consumption-which had been rising in double digits-dropped last year and is set to inch up just about 1 percent annually until 2020.
The striking slowdown is a headache for a global wine industry pinning hopes on fast China growth, and a further sign that Chinese consumers are reining in spending even as Beijing hopes they will pick up the slack from falling exports.
"When we started, there was huge demand so we could control prices and big margins were no problem," said Xavier Grangier, sales director at logistics firm Europasia, which runs the 4,000-square-meter Shanghai warehouse storing 250,000 bottles of mostly European wine.
Now, his firm has had to lower some prices and been stuck with some wine it is unlikely to sell.
"In Shanghai alone, 2,000 firms in the wine business just vanished over the last couple of years," he said.
China's retail wine market is worth around 78 billion yuan ($12.3 billion), with imports making up around one-third, according to a 2015 report from wine data analytics firm IWSR.
While official retail sales figures have been a rare bright spot amid a stream of economic data showing China's economy faltering, private sector surveys have shown consumer sentiment plumbing record lows in recent months.
A crackdown on corruption now in its third year has also discouraged conspicuous consumption, hitting not just wine but also sellers of other luxury goods from LVMH Moet Hennessy Louis Vuitton SE and Burberry Group Plc to global automakers.
"In 2010 everyone was screaming from the rooftops that China was the El Dorado for wine and you could become a millionaire by jumping into the business," said Pierrick Fayoux, Shanghai-based marketing manager at French wine importer VGF China Ltd.
"Now wine is being sold below cost, some is going bad sitting for long periods in poorly maintained warehouses and decent Bordeaux wines are going for 15 yuan a bottle."