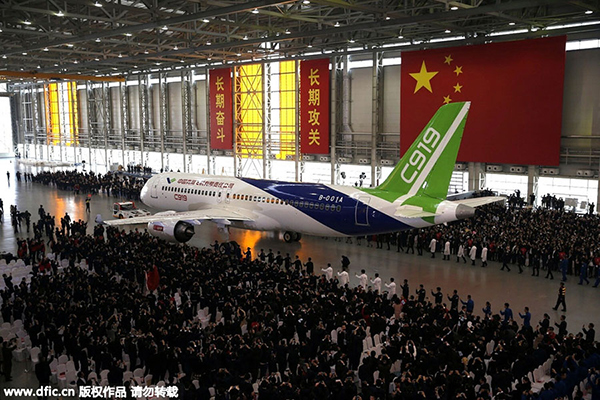 Vice-Premier Ma Kai attends the rollout ceremony of the C919 in Shanghai, Nov 2, 2015. [Photo/IC]
Experts say the successful development of the C919 airliner-China's first domestically built large passenger aircraft-could spark the creation of a nationwide aviation industry.
Commercial Aircraft Corp of China, or COMAC, showed off the first of the twin-engine planes in a ceremony at its Shanghai factory on Monday.
Since its launch in 2008, the C919 project has so far created 16 separate joint ventures, to supply various parts and systems for the narrow-bodied aircraft, such as its wheels and brakes, electronic flight controls and entertainment systems.
The suppliers themselves are in no doubt about the project's importance to the future of Chinese aviation.
"This new airliner represents a crucial part of China's long-term goal to enhance the global competitiveness of its aerospace industry," said Brian Greer, president, Asia Pacific, at Honeywell Aerospace, one of the world's largest manufacturers of aircraft engines and avionics.
Honeywell, which provides four essential systems for the C919,created two joint ventures in China.
Alongside the Flight Automatic Control Research Institute in Xi'an, Shaanxi province, the company is building the plane's flight-control system, and with Hunan Boyun New Materials Co Ltd in Hunan province, its wheels and braking system.
"China's aerospace industry is growing faster than anywhere in the world," said Greer. "Honeywell is encouraged by this, and sees the C919 as a sign of great things ahead."
Most of the ventures created specifically for the C919, however, are already carrying out work, too, for other aircraft companies around the world.
For instance, Thales Cetc Avionics Co Ltd,-a 50-50 partnership based in Chengdu, Sichuan province, between China Electronics Technology Group Corp, also known as Cetc, and Thales Group, the French avionics giant-delivered its first product in late September, a display device for the Airbus A320 aircraft.
Zeng Li, assistant chief engineer at Cetc, said although the company was created in 2013 to produce the C919's in-flight entertainment systems, it is targeting its technology at all single-aisle aircraft manufacturers.
Li said Thales Cetc has the capacity to produce entertainment systems for 200 single-aisle aircraft annually, and expects orders for the C919, and for the United States aviation firm Boeing Co, to be delivered by the end of next year.
Another jointly owned operation created for the C919 project is Xi'an AVIC Hamilton Sundstrand Aviation Electric Co Ltd.