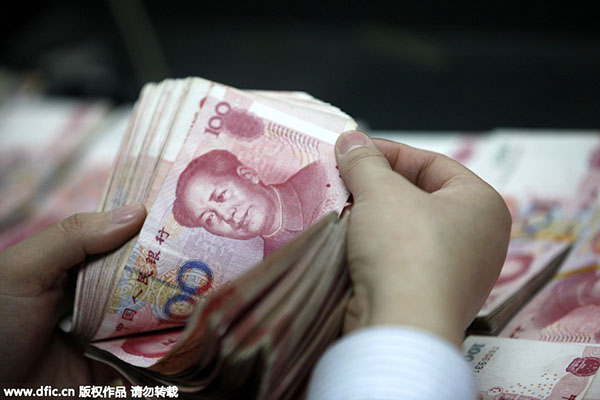 Chinese clerk counts RMB (renminbi) yuan banknotes at a bank in Huaibei city, East China's Anhui province, January 22, 2015.[Photo/IC]
BEIJING - China will continue to improve the macro-control elements of its financial reform and opening up, according to the central bank.
The central bank is committed to maintaining China's financial stability to ensure sustainable, healthy economic development, the People's Bank of China (PBOC) said during a recent high-level meeting, which was chaired by PBOC governor Zhou Xiaochuan.
The major task for the central bank is to implement key proposals adopted at the just-concluded Fifth Plenary Session of the 18th CPC Central Committee.
It was decided that China will target "medium-high economic growth" in the five years from 2016, according to a communique released on Thursday following the meeting.
China will aim to double its 2010 GDP and per capita income of both urban and rural residents by 2020 by ensuring more balanced, inclusive and sustainable development, it was confirmed.
These targets for the 13th Five-Year Plan (2016-2020) were set with view to ensure that the country can realize "a moderately prosperous society" by 2020.