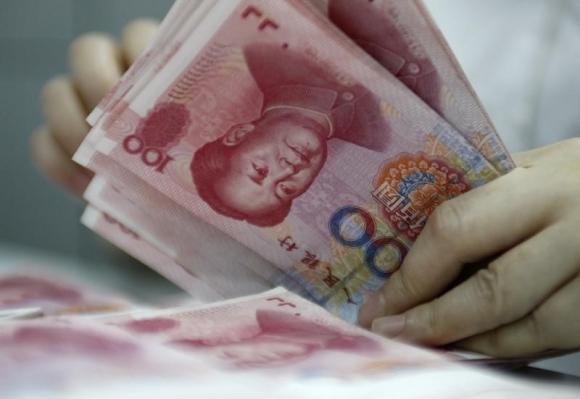 An employee counts yuan banknotes at a bank in Huaibei, Anhui province June 22, 2010.[Photo/Agencies]
China's central bank cut interest rates for the sixth time since November on Friday in another attempt to jumpstart a slowing economy.
The People's Bank of China (PBOC) said on its website that it was lowering the one-year benchmark bank lending rate by 25 basis points to 4.35 percent, effective from Oct. 24.
The one-year benchmark deposit rate was lowered by 25 basis points to 1.50 percent.
The central bank also cut the reserve requirement ratio (RRR) for all banks, for the fourth time this year.
The PBOC said it would cut the RRR by 50 basis points for all banks, taking the ratio to 17.5 percent for the country's biggest lenders.
A Q&A document released by PBOC said the rate cut was in line with the economic situation and would further lower social financing costs to support the real economy.
Data from the National Bureau of Statistics show GDP in the first three quarters grew 6.9 percent year-on-year to reach 48.78 trillion yuan ($7.67 trillion), the first time it fell below 7 percent since June 2009.
The third-quarter growth of 6.9 percent lightly beats expectation signaling an overall economic stability.
The growth was particularly dragged down by real estate investment, which further slowed to 2.6 percent in the first nine months, from 12.5 percent recorded in the same period just a year ago.
Analysts believe downward pressure will persist in the remainder of this year and next year, because the economy's traditional growth engines, such as labor-intensive manufacturing and capital-intensive heavy industries are losing stream while new engines, such as high value-added manufacturing and services, are developing but is not big enough to fill in the slack.
The central bank also said China's inflation stayed on a lower level overall, leaving some room for a rate cut.
The reduction in the reserve requirement ratio for banks was a preemptive move to support liquidity in the banking industry, the PBOC said. The targeted RRR cut aimed at better supporting the rural sector and small businesses.
Conditions were mature for the removal of a ceiling on deposit rates, the central bank said. After the liberalization, the PBOC's interest rate adjustment will rely more on market-based monetary policy tools.
The central bank said its monetary policy would remain prudent and it would continue to pay close attention to economy and price changes.