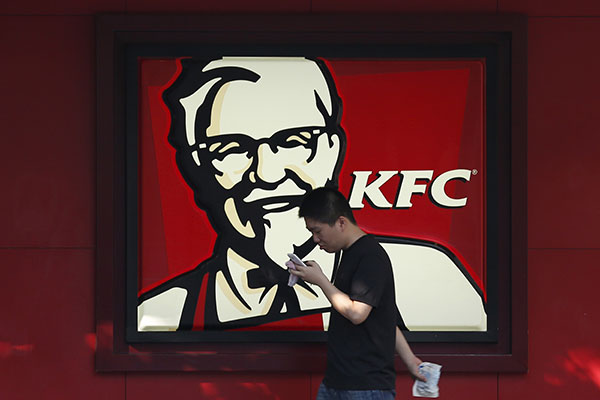 A man walks past a KFC restaurant in Shanghai. Yum Brands Inc, the parent company of KFC, has more than 41,000 restaurants in 125 countries and regions. [Photo/China Daily]
Underwhelming results in China have prompted fast food operator Yum Brands Inc to slash its annual growth forecast from 10 percent to low single-digit negative.
The owner of KFC, Pizza Hut and Taco Bell chains said it expected same-store sales for the fourth quarter to range from zero percent to 4 percent, with positive same-store sales growth at KFC and negative same-store sales at Pizza Hut Casual Dining
For the full year, same-store sales in China are expected to be low single-digit negative, with operating profit likely to remain flat, excluding the impact of foreign exchange, the company said in a statement.
The Louisville, Kentucky-based Yum has more than 41,000 restaurants in 125 countries and regions. The China division has 6,867 restaurants, predominately KFC and Pizza Hut Casual Dining restaurants. It said that sales in the mainland continued to be difficult due to the ongoing volatility.
After a massive expansion phase in China, Yum is currently going through a maintenance period. Despite its efforts to get consumers back and increase spending per meal, it has proved difficult to change the existing perceptions among Chinese consumers on their brands, said Ben Cavender, principal at China Market Research Group. Though Chinese consumers are continuing to spend, they are now choosier on the outlets they patronize, he said.
"KFC and Pizza Hut would be the first to feel impact as consumers are looking for something different," said Cavender.
With a growing number of mid-sized restaurants opening up, there is more pressure on Pizza Hut, which positions itself as a restaurant for families.
"Though more white-collar workers are now dining out, they are looking for more modern and better places than Pizza Hut," he said.
Yum on Thursday further lowered its earnings guidance for the current fiscal year, less than 10 days after cutting the same forecast, and said that Keith A Meister, a Carl Icahn disciple, was joining its board.
Meister is now part of activist shareholder Corvex Management LP, which was bankrolled partly by about $1 billion from George Soros.
The hedge-fund manager has led efforts to transform a variety of companies, including energy-pipeline operator Williams Cos, lender Fidelity National Financial Inc and corporate landlord CommonWealth REIT.
The KFC division has 14,316 outlets, approximately 70 percent of which are located outside the United States. The Pizza Hut division has 13,616, approximately 60 percent of which are located in the US.