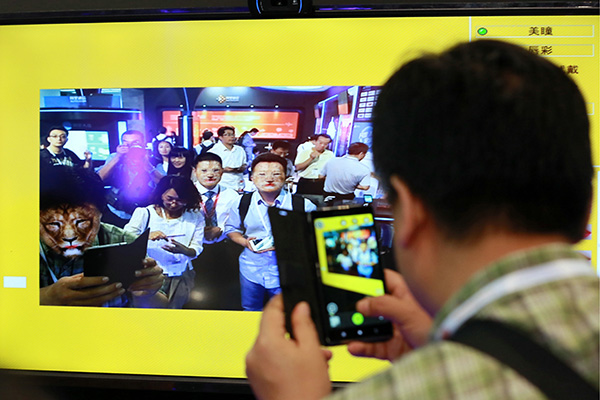 Visitors experience Alibaba Group Holding Ltd's virtual magic face-changing tech at an international information technology expo in Beijing. [Photo/China Daily]
E-commerce giant Alibaba Group Holding Ltd is taking full control of Youku Tudou Inc, a leading Internet video company in China, in a move to further push into the digital entertainment industry.
Alibaba, which already owns 18.3 percent of Youku Tudou through a strategic investment made in May 2014, said on Friday it has made a non-binding proposal to acquire all outstanding shares of the Beijing-based media company that it does not already own for $26.60 per American depositary share in an all-cash transaction valuing at $4.5 billion.
"Digital products, such as videos, are important products for e-commerce. Youku's high-quality video content will be a core component of Alibaba's digital product offering in the future," said Daniel Zhang, chief executive officer of Alibaba in a statement.
The proposed transaction would expand the existing partnership between Alibaba and Youku Tudou, said Zhang, adding that Youku Tudou would also be integrated into Alibaba's other business sectors, from e-commerce to media and advertising.
Jack Ma, executive chairman of Alibaba, said in an open letter last week that his group will focus on building a so-called double H industry, meaning health and happiness.
Youku Tudou, which has the largest viewer group in China, is no doubt an ideal partner to achieve the goal of bringing happiness to people.
However, analysts said that Alibaba needs more than just video viewers, especially when the e-commerce giant is languishing in the New York stock market due to the slow growth momentum in its online shopping business.
Huang Guofeng, an analyst with the Beijing-based Internet consultancy Analysys International, said Alibaba is a group that builds its business into an ecosystem, which means every business is connected with each other and somehow synergy can be created between different business units.
He said apart from e-commerce, Alibaba has interests in music, movie and sports, which can all use Youku Tudou as a channel to reach potential viewers and buyers.
"Apart from personal computers and mobile phones, Youku Tudou is also used by those who watch programs via television, which can boost Alibaba's influence in living rooms," he said.