China's Communist Party has sacked the assistant chairman of the country's securities regulator,  Xinhua reported on Tuesday, days after it was announced he was the subject of a graft probe.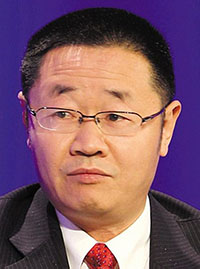 Zhang Yujun is by far the highest-ranked securities official investigated. [Photo/China Daily]
Zhang Yujun was under investigation for suspected "serious violation of discipline", the country's graft watchdog reported on Sept 16, using the euphemism it employs for corruption.
Zhang is the first China Securities Regulatory Commission (CSRC) official to come under investigation amid stock market turmoil, which started in June.
Zhang's case follows police investigations into several senior executives from the country's largest securities brokerage, CITIC Securities Co, for alleged insider trading and information leaks.
Analysts said the recent series of investigations highlights Beijing's desire to clean up the securities market and to ensure that market-driven reform of this sector is not derailed by rampant malpractice.
Zhang joined the commission in 1995 and is known to be an advocate of financial innovation. He was in charge of the regulation of financial institutions, including securities firms, fund management companies and futures brokerages.
He was general manager of the Shanghai Stock Exchange from 2008 to 2012 and headed the Shenzhen Stock Exchange from 2000 to 2008.
Born in Sichuan province, Zhang holds a dual doctoral degree in economics and law.