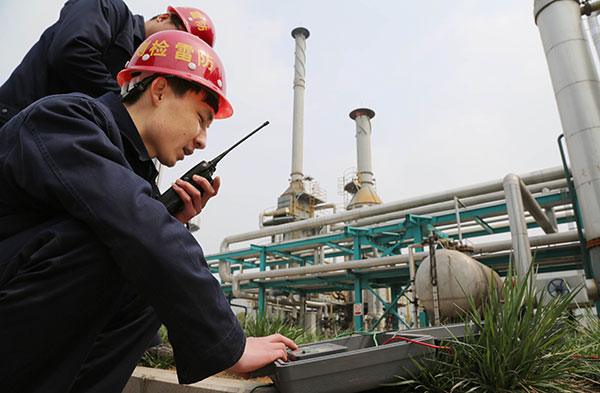 Technicians check facilities operated by natural gas distributor ENN Energy Holdings Ltd in Baofeng county, Henan province. [Wang Shuangzheng / For China Daily]
Despite the weakness in energy demand due to the economic slowdown, China's privately owned natural gas distributor ENN Energy Holdings Ltd reported a 17.8 percent year-on-year growth in profit to 1.39 billion yuan ($217 million) during the first six months of the year.
ENN Energy, one of the largest clean energy distributors in China, said on Wednesday that revenue during the first six months surged by 10.7 percent to 15.89 billion yuan.
"Facing the tremendous challenges arising from the economic slowdown and the plunge in international oil prices, the company has been exploring new businesses like energy trading and ship refueling to bolster revenue," said Wang Yusuo, chairman of the company.
Zhao Jungui, vice-chairman of China Petroleum and Chemical Industry Federation, an industry body, said on Aug 14 during a conference that profits of the upstream natural gas exploration sector fell due to the fall in global crude prices.
The natural gas exploration sector saw profits fall by about 33 percent from the same period a year ago, according to the federation.
Due to the weak demand for energy products, China's investment on oil and gas exploration fell by 6.5 percent during the first half.
ENN Energy's revenue attributable to piped gas sales, which is its major business, reached 9.63 billion yuan, up 6.1 percent over the same period last year and accounted for 60.6 percent of the total revenue.
Meanwhile, the company has been accelerating natural gas use for vehicles to improve its revenue structure.
The revenue attributable to vehicle gas sales grew by 8.2 percent to 1.96 billion yuan, accounting for 12.3 percent of the total revenue. Vehicular natural gas sales volume rose by 11.5 percent to 740 million cubic meters.
To increase gas use, the company built and put into operation eight compressed natural gas and another eight liquefied natural gas refueling stations during the first half, bringing the total number of refueling stations in operation to 294 CNG and 249 LNG stations.
Thanks to the increasing number of stations, the company's gas sales at LNG refueling stations surged by 44.6 percent year-on-year to 250 million cubic meters.
ENN Energy signed a Letter of Intent for Cooperation on the Integration of Beijing, Tianjin and Hebei with Beijing Gas Group in April.
The two sides will jointly facilitate the integration of their existing gas refueling stations in Beijing, Tianjin and Hebei as well as in peripheral areas, and cooperate in the building of new vehicle gas refueling stations.
In addition, the company continued its initiatives in exploring the LNG bunkering business. At present, the company has three bunkering stations in operation in the country.
The company has signed strategic cooperations with domestic and foreign enterprises including Samchully Company, the largest downstream city gas distributor in South Korea, Minsheng Bank, Nantong Port, Wuhan New Port Construction Investment and Development Group and Quanzhou Port, to develop more new LNG-powered vessels and bunkering stations.