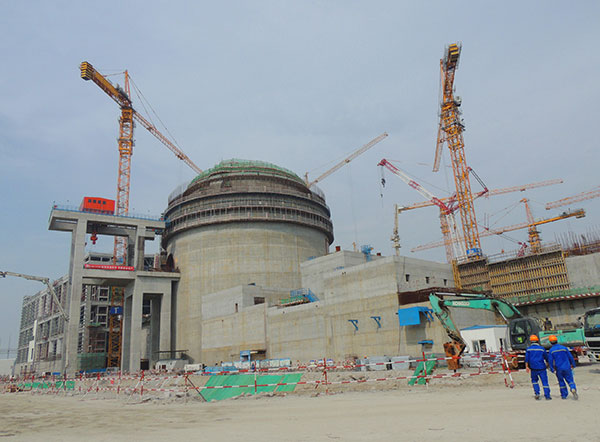 The expansion of Tianwan Nuclear Power Plant Project is underway near Lianyungang, Jiangsu province. China is the world's largest nuclear market in terms of the number of power plants under construction.[Geng Yuhe / For China Daily]
China's decision to press ahead with its nuclear energy program can have a positive effect on the global market.
Francois Morin, a French nuclear veteran who has worked in the industry for 25 years, believes increasing the number of nuclear power plants here will mean more than the simple "Made in China" tag.
"The country has shown great enthusiasm for building its own brand of nuclear reactor, but is it necessary to produce all the other equipment on its own?" he said. "Actually, a great deal of nuclear equipment can be purchased from abroad where the cost is lower."
The nuclear crisis at Japan's Fukushima Daiichi plant in 2011, after it was rocked by an earthquake and hit by a massive tsunami, prompted many countries to re-examine their nuclear energy programs.
Germany and Switzerland decided to phase out nuclear power plants by 2035, while others are still working on new energy strategies. But these decisions have made China's involvement in the industry more important.
Nuclear-generated power plays a vital role in the energy mix here and if this is to be revived globally, China's move to build six or seven power plants a year will be crucial.
"So Chinese success in its nuclear program is broader than just full independency of nuclear equipment manufacturing," Morin said. "It may lead globally to a wider acceptance of nuclear energy."
There are more than 45 countries considering nuclear power programs, but potential markets for China might be limited as competition will be fierce.
"China may have opportunities to build plants in countries such as Romania, Turkey, South Africa, Argentina and Poland," he said.
The global nuclear energy market for power plants that are either under construction or planned by 2030 is expected to reach $1.2 trillion, data released by the World Nuclear Association has showed.
"To reach 80 percent of localization (or manufacturing nuclear power plant components) is good," Morin said. "If it is beyond that, you should consider the revenue you can make because in some cases it might be faster and cheaper to buy from other countries.
"To illustrate that point, you just have to look at aircraft maker Boeing in the United States. Often, it outsources engines and brings them in from Rolls Royce," he said. "Sometimes there's no need for fully localization. Even China's domestic automotive industry imports 10 percent of the parts."
Yet there are still opportunities for Chinese companies working in the nuclear power sector. Equipment and parts need to be replaced as plants around the world start to age. For example, the market value for steam generator replacements will reach $5.5 billion by 2023, according to the WNA.
China is the world's largest nuclear market in terms of the number of power plants under construction. It has 23 in operation and 20 more under construction. "As the country becomes a global actor on the nuclear stage, it will naturally compromise and let foreign manufacturers become involved in the industry here. It will also participate in common foreign projects," Morin said.
Contact the writer at lvchang@chinadaily.com.cn