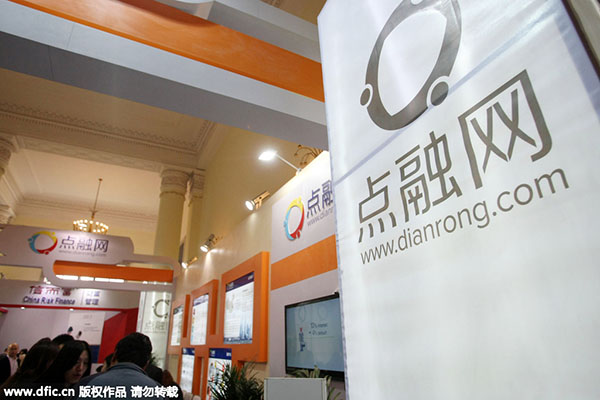 Dianrong.com has got the largest round of funding in China's peer-to-peer lending sector till date with a $207 million cash infusion from a group of investors led by global lender Standard Chartered Plc. [Photo / IC]
Standard Chartered among group of investors who have provided funds
Dianrong.com on Thursday got the largest round of funding in China's peer-to-peer lending sector till date with a $207 million cash infusion from a group of investors led by global lender Standard Chartered Plc.
This is the third round of financing for Dianrong.com. China Fintech Fund and Bohai Leasing are the other lenders apart from StanChart that have contributed to the funding.
On Jan 15, Dianrong received its second round of financing from Tiger Global Management, which has invested in leading Chinese Internet companies such as Alibaba Group Holding Ltd and JD.com Inc.
This investment is not only the largest in the Chinese P2P industry, but also the third-largest in the world's Internet finance industry.
In addition, it is also the first time that a traditional lender has made a direct equity investment in an Internet finance company.
"Standard Chartered Private Equity rarely invests in early-stage companies. We typically focus on growth and late-stage companies. Dianrong is an exceptional case. Standard Chartered has a different investment strategy than typical venture capital firms. We do not invest in a lot of companies, but emphasize on high quality investments and overall success rate; we would only like to invest in the best and most differentiated company in the industry," said Zhu Wei, managing director and global co-head of SCPE.
Dianrong.com will use the funds to boost its operations, products, brand and employees. About 2,500 more employees are expected to join the company during the next 18 months.
Established in 2012 and with 18 branches across China, the company expects the number of branches to rise three-fold in the near future, according to Soul Htite, co-founder and chief executive officer of the company. Htite is also the co-founder of Lending Club, which is the world's largest P2P platform.
"The investment is substantial. We will not give the money to people who would spend their money on entertainment or those who would spend the money in the stock market. But rather, we will give it to those who will give the money back to the economy," said Htite.
In June 2014, Dianrong launched a unique and innovative wealth management product called "Group Investing-TuanTuanZhuan". As of today, TuanTuanZhuan exceeds 2.7 billion yuan ($422 million) in volume and has earned over 100 million yuan in interest for Dianrong lenders.
In 2014, the turnover of Chinese P2P lending platforms reached 321.19 billion yuan, up 268.83 percent compared to 2013, according to the Payment & Clearing Association of China.
The number of P2P platforms reached 2,028 in the first half of this year, up 28.76 percent compared to the end of last year. About 900 new P2P platforms came up in the first six months. The total turnover during the period reached over 300 billion yuan.