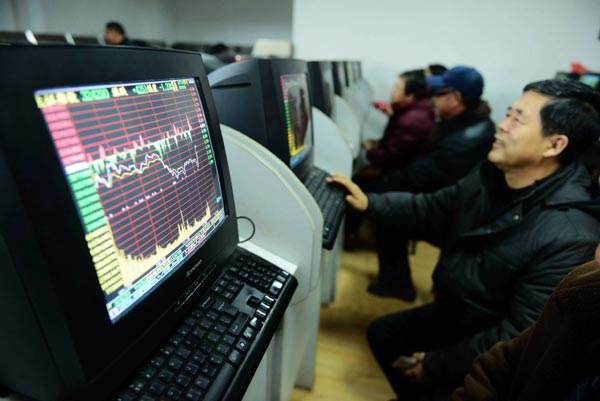 Investors examine share prices at a brokerage in Qingdao, Shandong province, on Monday. The benchmark Shanghai Composite Index fell 1.71 percent to 3229.32 points, down from the five-year high of 3404.83 on Friday. [Photo/China Daily]
This week will be the busiest for initial public offerings in the A-share market since new listings resumed a year ago in the Chinese mainland, with 22 companies set to raise about 12.2 billion yuan ($1.97 billion).
On Monday, two companies that will issue IPOs on the Shanghai Stock Exchange began online subscriptions.
Spring Airlines Co Ltd, the nation's first privately owned budget carrier, issued 100 million shares (40 million online) at 22.96 yuan, for a price-earnings ratio of 22.96.
In the first half of 2014, the company achieved profits of 270 million yuan. The full-year figure was 732 million yuan in 2013.
Ningbo Gaofa Automotive Control System Co Ltd issued 34.2 million shares at a price-earnings ratio of 19.4. There were 13.2 million shares available for online subscription. In 2013, net profit was 79.62 million yuan, up 44 percent.
On Wednesday, 10 companies will open online subscriptions, including Wanda Cinema Co Ltd and Western Region Gold Co Ltd.
Shanghai Securities Co Ltd has estimated that more than 2 trillion yuan will be locked up during the week's IPOs.
"Interbank liquidity may be affected as the frozen funds are huge," said Jiang Chao, an analyst at Haitong Securities Co Ltd. "January is when commercial banks make large loans, which lifts capital costs, so it will be more difficult for the stock market to raise funds for new shares."
On Monday, the benchmark Shanghai Composite Index fell 1.71 percent to 3229.32 points, down from the five-year high of 3,404.83 on Friday.
Kang Ning, an analyst at Shenyin & Wanguo Securities Co Ltd, said that this week's "rush hour" for new issues may not drain much money from the secondary market or affect existing stocks' prices, as the total issue volume is limited.
"New investment capital is expected to be injected along with the fast expansion of the market's capitalization," he said.
A report from ChinaVenture Investment Consulting Ltd said that since IPOs resumed in January 2014 after a freeze of more than one year, there were 125 new A-share listings last year, raising about 78.66 billion yuan.
The average price-earnings ratio in the A-share market was 23.7 in 2014, somewhat lower than in previous years. According to the report, 120 new shares rose more than 44 percent on their initial trading day.