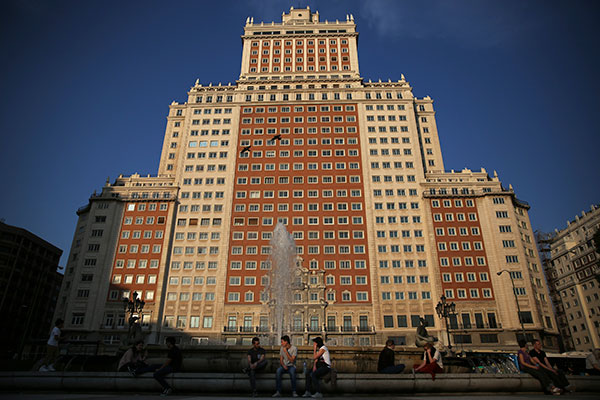 The vacant skyscraper Edificio Espana is seen in the background as people enjoy a sunny afternoon at Espana square in central Madrid. Spain's biggest bank Santander sold the historic building to Chinese conglomerate Dalian Wanda Group for $362 million. [Photo /Agencies]
"Hilton will operate the hotel, the linchpin of its portfolio, for the next 100 years," Christopher Nassetta, president and CEO of Hilton Worldwide, told the New York Daily News. "The 1,232-room landmark will also undergo an extensive renovation to ensure that Waldorf Astoria New York represents the brand's world-class standards for generations to come."
Anbang Insurance is likely to increase its presence in the hotel market as part of its asset portfolio by picking up properties in Europe and the US. "Going forward, the company will increase its share of overseas assets especially in Europe and North America," Anbang said in a statement on its website.
Rival Sunshine Insurance Group, one of the seven largest insurance companies in China, has also moved into the sector. In February, it bought the new Baccart Hotel in New York, which opened a month later, and signed a long-term contract with the Starwood Capital's SH Group to run the property.
"New York remains the top choice in the US for Chinese commercial real estate investments," Investors' Business Daily said on Investors.com last month.
"Of over $2 billion in US assets bought by Chinese investors (so far this year), $1.64 billion was in Manhattan."
Apart from major insurance groups, property companies have also been targeting the overseas hotel industry.
Chongqing Kangde Industrial Group Co Ltd is an integrated corporation involved in real estate development, construction, hotels and property management.
In February, the Chongqing-based group purchased the Santiago Hotel in Tenerife, a Spanish island, for $66 million.
"This was part of our plan to buy overseas hotel properties," Lu Chaokang, chairman of the company, said. "It has always been our strategy to expand into the global market."
Dalian Wanda Group, the flagship of Chinese hotel brand developers, is doing just that. Last year, the company bought the Edificio Espana, a Madrid landmark in Spain, for $362 million from the Banco Santander. More overseas acquisitions are planned.
"In the next five years, the company aims to open between eight and 10 hotels in major overseas cities," Iija Poepper, sales and marketing vice-president of Wanda Hotels and Resorts, said.
By the end of last year, the group had already secured land to build hotels in London, Madrid, Los Angeles and Chicago. This is all part of Wanda's plan to expand worldwide in search of increased revenue and profit.
"It is easy for Chinese enterprises to get into the overseas hotel market," Zhao Huanyan, chief analyst at Huamei Consulting, a firm specializing in the hotel industry and based in Shenzhen, said.
"But in the long term, it will be important for Chinese companies, especially those in the hotel and tourism industries, to build up their own brands".
Key destinations will be mature markets such as New York, San Francisco, London and Singapore.