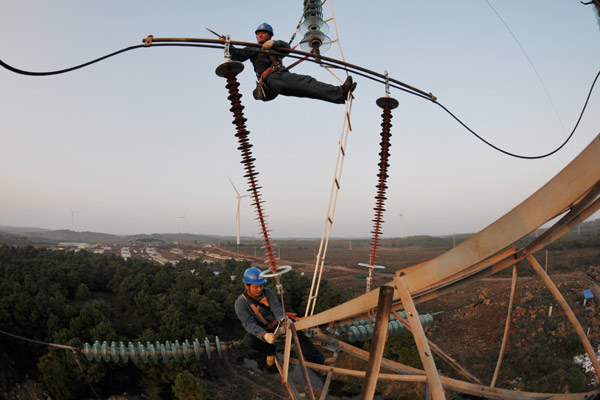 Workers check power transmission lines in Mingguang, Anhui province. [Photo proided to China Daily]
China is expanding trial reforms for the pricing of electricity into seven regions, as the country moves to turn energy price into more market-driven.
Five provinces - Anhui, Hubei, Yunnan, Guizhou as well as Ningxia Hui autonomous region - will test the water for electricity transmission and distribution price reform, following pilots in Shenzhen and Inner Mongolia autonomous region, said the National Development and Reform Commission (NDRC) in a statement on Monday.
The NDRC will push forward electricity tariff reform and continue to expand test regions, it added.
Such reform is expected to change the financial model of power grids, as their current profits come from the guaranteed difference between on-grid and retail tariffs.
Instead, power generation enterprises will apply for an electricity sales license and likely to bid openly for contracts, reported China Business News citing industry insiders.
A power transaction market will be established for better resources allocation, where diversified entities can participate and drive down power generation costs, said experts.