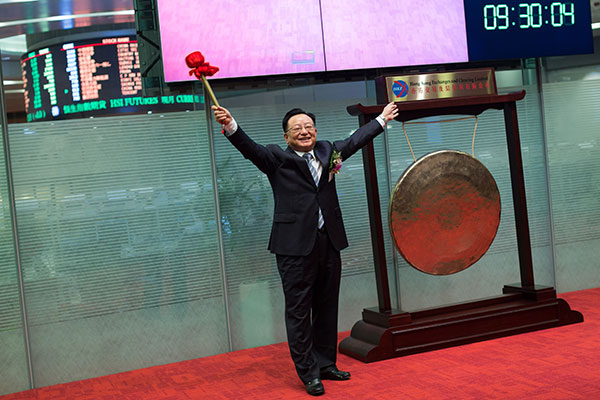 Zhou Zhiliang, chairman of China Railway Signal & Communication Corp, poses after striking a gong during the company's listing ceremony at the Hong Kong Stock Exchange in Hong Kong, on Aug 7. The company raised HK$11 billion ($1.4 billion) from the IPO and has a valuation of about HK$55.1 billion. [Photo/Agencies]
The Chinese are not resting on their laurels in their quest to dominate the global rail-technology industry: They have also set their eyes on the high-margin signaling business.
China Railway Signal & Communication Corp made its listing debut on Friday in Hong Kong after raising HK$11 billion ($1.4 billion) in an initial public offering that values the company at about HK$55.1 billion. Shares rose 0.3 percent on Friday to HK$6.32.
The State-owned company said it will use about 20 percent of the proceeds from its IPO on domestic and overseas acquisitions, while spending an unspecified portion on long-term research and development.
"China's Belt and Road Initiative is bound to benefit the company, helping it to start expanding its overseas business," said Jay Huang, a Sanford Bernstein analyst in Hong Kong.
He was referring to a development framework the Chinese government unveiled in October, 2013, that aims to build new economic links retracing the ancient Silk Road trading route.
The Beijing-based firm's fundraising effort comes amid a major push to market Chinese railway technology overseas, especially in emerging markets.
Rail was listed in March as one of the 10 focus industries in a blueprint to make China into an advanced industrialized economy, with the government using railroad companies to win lucrative contracts.
State-owned CSR Corp and CNR Corp combined in May to form CRRC Corp, a train equipment maker that dwarfs rivals including Siemens AG and Alstom SA.
The merger aimed to create economies of scale to help China compete more aggressively for overseas rail deals.
On Friday, CRCC High-Tech Equipment Corp, a Chinese maker of large railway track maintenance machines, also filed pre-listing documents with the Hong Kong Stock Exchange. The company plans to raise as much as $400 million, IFR Asia reported.
China Railway Signal's transportation control system enables automatic control of train speed and of the spacing between trains, improving safety and efficiency, Bernstein's Huang wrote in an Aug 5 note.
The business uses advanced technology, has high margins and offers moderate growth potential over the next five years, he said.
Other rail-signal makers have been expanding market share recently. In February, Tokyo-based Hitachi Ltd agreed to buy Finmeccanica SpA's rail business and a signals affiliate, its largest overseas acquisition ever.
The bulk of Hitachi's deal was for Finmeccanica's signaling business, Ansaldo STS SpA. Siemens and Alstom also have been expanding in that market in the past three years, seeking to capture lucrative service and replacement contracts.
Overseas business accounted for only 4.4 percent of China Railway Signal's gross profit last year, but the company's prospectus said profit margins on overseas segments are almost 32 percent, better than on its domestic railway and urban transit businesses.
Challenges remain in China's push to spread its rail technology globally. Among them is the issue of safety.
A July 2011 high-speed rail crash near the city of Wenzhou in Zhejiang province killed 40 people. The accident was blamed on mismanagement and design flaws on the trains.
China Railway Signal said it was among the responsible parties, as it made the control-system equipment that malfunctioned and caused the accident.
In its prospectus, the company said it had taken steps to rectify any failures and improved its internal control mechanisms.