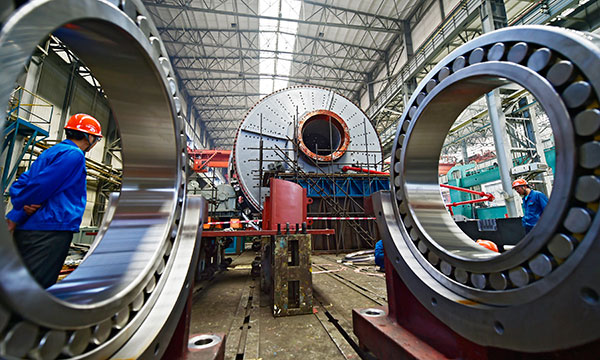 Grinding machines at an assembly line of CITIC Heavy Industries Co Ltd in Luoyang, Henan province. The country's overall machinery manufacturing industry expanded at its slowest pace since 2008, in the first six months of the year.[Huang Zhengwei / China Daily]
China's consumer-led machinery sector fared well in the first half of the year, but the country's overall machinery manufacturing industry expanded at its slowest pace since the financial crisis in 2008, according to the China Machinery Industry Federation.
Chen Bin, who heads the industry body, said consumer-led machine makers enjoyed strong profit growth during the first six months, and officials remain "bullish about the increase in the second half and over the next few years, as the sector is barely being affected" by a slowdown in investment.
"The food-packaging machinery sector, particularly, picked up rapidly because of a rise in demand for high-quality machines, in the wake of recent food safety scandals," said Chen.
The federation figures show, however, that the overall machinery sector demand is weak, at a 5.7 percent annual growth, falling 5.5 percentage points. That is 0.6 percentage point lower than the overall national industrial growth.
Within the new numbers, growth in the automobile sector remained sluggish between January and June, despite an increase in the volume of new energy vehicles being produced.
Demand in the sector fell every month during the period, and posted an overall 1.56 percent drop in profits.
Output and sales of alternative-fuel vehicles exceeded industry average, the federation said, boosted by preferential industry policies.
During the first six months, production of new energy vehicles surged 150 percent to 76,000 units, while sales grew 140 percent to 73,000.
Yao Jie, deputy secretary-general of the China Association of Automobile Manufacturers, said: "Although new energy vehicles still account for a small percentage of overall industry output and sales, they have picked up rapidly, and this was the highlight of the machinery manufacturing sector during the first six months.
"Both the output and sales growth are likely to be higher in the second half, too, helped by policies to support the sales of alternative fuel vehicles."
The government has set an annual sales target of 500,000 new energy and energy-saving vehicles this year.
The federation figures also showed that private machinery companies enjoyed much stronger overall growth than State-owned and foreign-funded companies, with revenues rising 7.2 percent over last year, and profits up by 9.38 percent.
State and foreign companies posted overall declines.
Last year, private machinery companies recorded total revenues of 12.7 trillion yuan ($2.05 trillion), accounting for 57.3 percent of the total industry revenues.