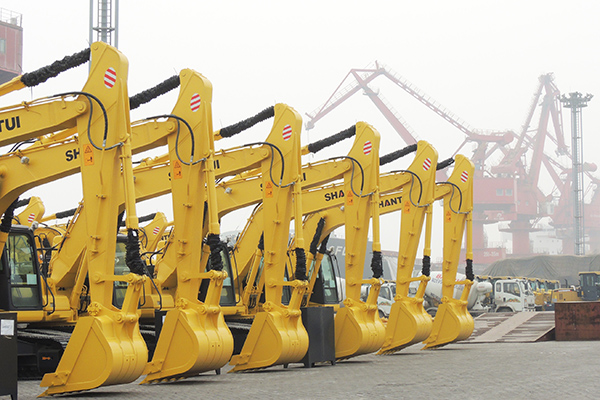 Excavators ready for export at Lianyungang port, Jiangsu province. China will build a standard system to categorize construction machinery to boost exports. [Photo/China Daily]

Commerce ministry, industry association chart plan to boost quality of mainland's manufacturing goods
The Ministry of Commerce will soon come out with draft standards for export of machinery products from China, as part of its overall efforts to shut the door on low-quality shipments, industry sources said on Thursday.
The ministry is working with key industry bodies like the China Construction Machinery Association to draft the standards, which will give construction machinery rankings. The new standard system will ensure that only durable and low-carbon emission products are exported, said Qi Jun, president of the Beijing-based CCMA.
"We want to boost trade with other regions, particularly with Africa, Latin America and the Association of Southeast Asian Nations, to offset the saturated domestic market. However, we found that there are conflicts in the technical standards of products and services," said Qi.
China currently has no uniform export standards for its enormous construction machinery industry. Low-quality products have often caused work suspension, compensation and legal issues in overseas markets over the past decade. They have also damaged Chinese companies' reputation on the international stage.
"With new national standards being used, Chinese construction machinery makers will not only sell quality products, but also export more of their services to global markets," said Qi, adding China's construction machinery producers are gradually losing their low-cost labor advantage and need better brand recognition.
China's construction machinery exports totaled 8.62 billion yuan ($1.38 billion) in the first four months of this year, down 22.45 percent from a year earlier. Sales revenue for the country's 12 major companies in 10 products including excavators, bulldozers, heavy cranes, pipe-layers, road rollers and wheel loaders fell by 25 percent during the same period.
The CCMA and the Ministry of Commerce also plan to jointly establish logistics and part supply centers in key locations such as Dubai, Jakarta and Nairobi to help Chinese companies expand overseas, which would be a practical solution for medium-sized companies to save costs while supplying parts in foreign markets.
The jointly operated service centers are designed to set up unified and direct-service platforms for foreign clients and send them critical components and updated information about the products within a short period, while specialists can offer fuel-saving, machine maintenance and component replacement techniques to clients over a wide range of platforms.
"Chinese companies won't be successful if they can't build logistics and after-sales service centers in emerging markets, especially in Africa and Latin America," said Qi. "There is so much going on in terms of urbanization, industrialization and energy development. Every country needs construction products to complete these projects."
Since big names such as US-based Caterpillar Inc, Komatsu of Japan and Sweden's Volvo Construction Equipment have all established service networks in developing markets, Qi said it is important for Chinese companies to follow suit.
Zhao Ying, a researcher at the Beijing-based Institute of Industrial Economics of the Chinese Academy of Social Sciences, said the move can offer more value-added services and bring the entire gamut of products to core customers. This will not only add customers, but also attract more companies and affluent individuals to choose Chinese products.
Zhao noted that each Chinese brand has its own customer group in overseas markets, and it will take time to develop an information protection system and persuade big domestic brands such as XCMG, Sany Group, and Zoomlion Heavy Industry Science and Technology Co to join it.