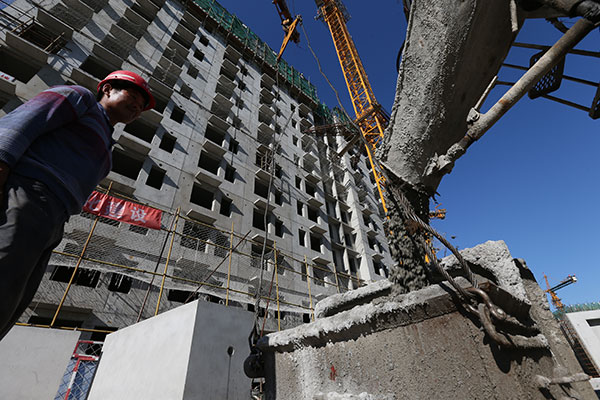 A property construction site in Tongzhou district of Beijing. House sales in Tongzhou surged by more than 140 percent in the second quarter compared with last year. [Photo provided to China Daily]
Beijing housing officials have vowed a crackdown on suspect sales tactics being used by developers in the Tongzhou district of the city, after prices in the area have surged.
Xu Jianyun, head of Beijing Municipal Commission of Housing and Urban-rural Development, told a local radio station on Monday the department plans a series of measures to calm the market, including forcing companies to stick to their previous construction schedules and release dates.
Some developers have been accused of holding back on projects planned in Tongzhou in anticipation of price hikes there following speculation in May that the municipal government had decided to relocate to the district, 30 kilometers east of Tian'anmen Square.
The plan is part of a wider program to better integrate the Beijing-Tianjin-Hebei metropolitan area.
The municipal government confirmed last month that Tongzhou would become a "subsidiary administrative center", meaning some government agencies would relocate there.
Construction work is expected to have made "remarkable progress" by 2017, the government said.
Xu said on Monday the department planned to "strengthen enforcements, especially on projects that have been receiving a lot of complaints.
"We plan to crack down on this new-home hoarding, on fake promotions and on malicious speculation," he said.
The commission's efforts so far have focused on simple price monitoring, following up complaints, and dealing with what it considers false promotions by developers. Some developers have been requested not to raise their prices.
According to data from China Real Estate Information Corp, a private institution, sales in Tongzhou during the second quarter surged more than 140 percent compared with last year, both in terms of floor space sold and value.
June prices appeared to stabilize, but in July they rose significantly after the official confirmation.
According to figures from the research unit of Homelink, the city's largest pre-owned property agent, six of Beijing's top nine sales in July were located in Tongzhou.
The area accounted for 29.5 percent of the capital's entire number of sales in the first 12 days of the month, up from 13.3 percent in May and 25.7 percent in June.
Some of the prime properties in Tongzhou were reported to be rising by 5,000 yuan ($800) per square meter per day, and China Daily's onsite visits suggested that it had become common practice for developers to be quietly raising prices or even withdrawing houses that were already on offer.
Sale representatives of some projects suspected of being involved also refused to disclose how much properties were priced a few months ago.
According to Homelink, properties in Tongzhou costing between 25,000 and 30,000 yuan per sq m have been the most popular, accounting for 23.6 percent of the total turnover, but those priced 15,000 to 20,000 yuan have become increasingly difficult to even find.
Last week, one project developer refused to give purchase opportunity to more than 400 prospective buyers, who had already paid their reservation fees to secure their new homes.
The enraged buyers clashed with sales representatives, and the police were called to restore order.
Li Qiaoling, an analyst with Homelink, said developers have previously delayed project sales in anticipation of price rises, but called on the government to do more in this case, insisting the obvious solution would be to release more land, despite Tongzhou's planned land supply already the second largest of Beijing's 16 districts.