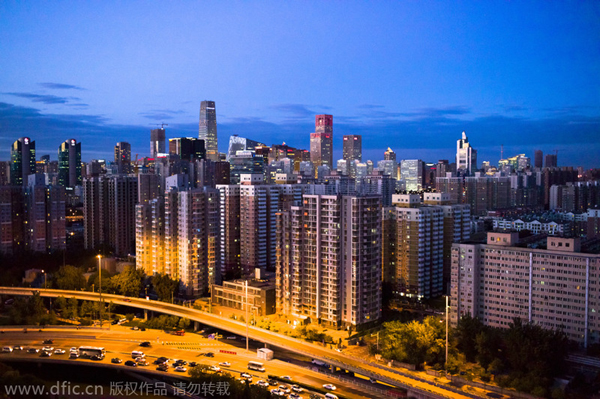 Night view of residential apartment buildings in front of skyscrapers and high-rise buildings in Central Business District in Beijing, Sept 3, 2012. [Photo/IC]
Serious competition is set to weigh on the capital value of Beijing's high-end residential sector, a report from international real estate service provider JLL said on Tuesday.
The loosening policy environment is expected to release some pent-up demand, but high prices are expected to restrain sales volume, the report showed.
Many new projects are also expected to enter the market in 2015. Therefore, capital values will still face headwinds in the coming months, and suppress price increases.
Meanwhile, demand in the leasing market is not expected to change much. New supply expected for late 2015 is projected to push up overall vacancies. Rents are expected to see modest rental growth, but also more volatility as operators adjust rents according to occupancy levels and market conditions.
Both the mass market and high-end market recorded very weak sales. Despite increasing 55 percent year-on-year, mass market sales volume decreased by 30 percent in the first two months of the year from the previous quarter, due to limited new supplies and the slower Chinese New Year period, JLL statistics showed.
It was a similar situation for the high-end market, which transacted just 214 high-end apartment units and 37 high-end villa units over the same period. However, both transaction volumes are expected to rebound quickly from March, given that the central bank continues to loosen the credit market and favor a policy supporting housing sales as indicated from the Two Sessions.
Capital values declined slightly due to the low transaction volume. Primary capital values for luxury apartments and high-end villas decreased 0.4 percent in the first two months of the year from the previous quarter, and 4.6 percent over the same period. The slower pace of sales prompted some developers to lure buyers with discounts.
On the other hand, the launch of the Asian Infrastructure Investment Bank (AIIB) and "'One Belt and One Road" initiative will promote renminbi internationalization and strengthen the purchasing power of Chinese people in foreign countries, industry experts said.
"Under this backdrop, investing in overseas properties is without doubt a wise decision," said Zhang Hong, head of International Residential of international real estate service provider JLL Beijing.