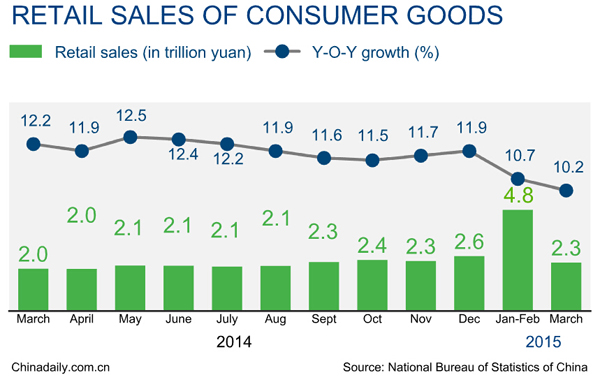 BEIJING - Consumers appeared increasingly reluctant to spend and growth in retail sales continued to slow in March.
Retail sales grew 10.2 percent in March from a year earlier to 2.27 trillion yuan ($370 billion), the National Bureau of Statistics (NBS) said on Wednesday.
The pace slowed from 10.7 percent in the January-February period and an annual 12 percent in 2014, dragging down aggregate growth in the first quarter (Q1)to 10.6 percent.
Online retail sales of goods and services remained robust in Q1 despite growth declining from an annual 49.7 percent in 2014 to 41.3 percent.
This lackluster performance comes as China attempts to move consumption patterns away from an over reliance on the foreign market to domestic consumption.
Rural retail sales growth in outpaced urban areas, with Q1 sales in rural and urban regions rising 11.6 percent and 10.4 percent, respectively.
The disparity was largely in line with the difference in income growth, with per capita disposable income for rural people increasing 10 percent and that for urban residents rising 8.3 percent.
"Consumption stayed largely stable in Q1, and contributed the most to GDP growth among the three major economic drivers [consumption, investment and foreign trade]," said NBS spokesperson Sheng Laiyun, regardless of the slowdown.
In Sheng's view, people are more willing to buy high-end products and services, showing that consumption patterns are also shifting.
"We have never lacked areas for consumption growth, the problem is how to fully achieve that potential," said Sheng, adding that the government will continue to help raise people's income and encourage spending by tightly weaving a social safety net.
Economic growth slowed to 7 percent in Q1, down from 7.3 percent in the last quarter of 2014, the NBS announced.
Sheng said the economy operated steadily in a "reasonable range".