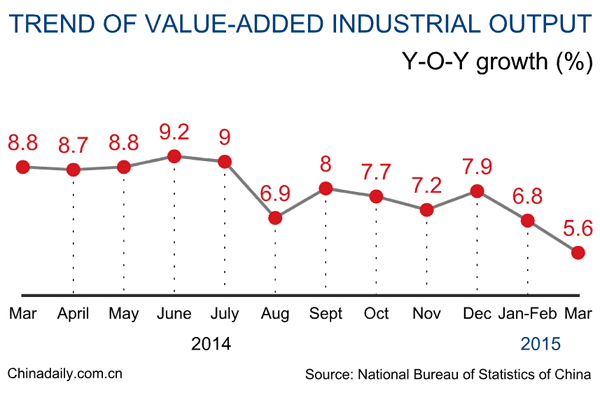 BEIJING - Despite concerns over lethargic industrial output and increasing downward pressure in the first quarter (Q1) of 2015, growth in China's key emergent sectors fed positive sentiment.
Industrial output in China grew 6.4 percent year on year in the January-March period, down from 8.7 percent growth a year ago, the National Bureau of Statistics (NBS) announced on Wednesday.
Industrial output, officially called industrial value added, is used to measure the activity of designated large enterprises that have an annual turnover of at least 20 million yuan ($3.26 million).
The start of the year saw other lackluster economic indicators, indicating a bumpy ride ahead for the world's second largest economy.
After more than a decade of double-digit growth, annual industrial growth slowed to 9.7 percent in 2013, and then to 8.3 percent last year.
In March, the growth rate dipped to 5.6 percent, the lowest monthly level since December 2008.
In Q1 manufacturing sector output rose 7.2 percent; mining industry output increased 3.2 percent; and electricity, heating, gas and water grew by 2.3 percent.
Industrial output of state-owned and state-controlled enterprises saw 1.7 percent growth year on year, while joint stock companies expanded by 7.4 percent. Industrial output of enterprises funded by overseas investors expanded by 4.3 percent.
All these figures are down from a year ago.
Despite the slowdown, industrial structure continued to improve, NBS spokesperson Sheng Laiyun said during a press conference on Wednesday, noting innovation had accelerated and the expansion of emerging industries was much faster.
The industrial value added of the high-tech sector and equipment manufacturing jumped by 11.4 percent and 7.7 percent respectively in Q1, outpacing overall growth.
In addition, the manufacturing purchasing managers' index rebounded to 50.1 in March from 49.9 in the previous month.
The NBS also said industrial enterprises raked in combined profits of 745.2 billion yuan in the first two months, down 4.2 percent from a year earlier.
China's economic growth slowed to 7 percent in Q1, down from 7.3 percent in 2014 Q4, exceeding market expectations.