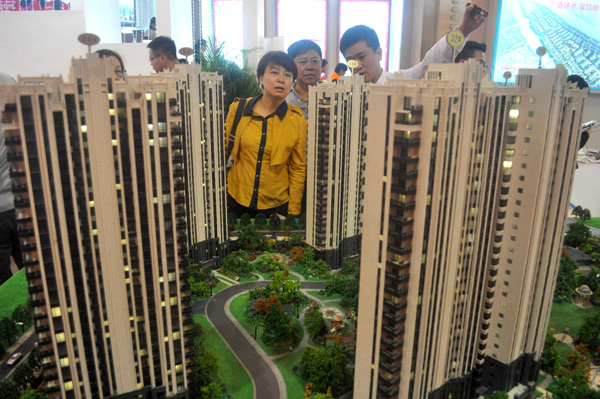 Potential homebuyers examine a property project model in Shanghai, May 2, 2014. [Asianewsphoto by Yan Daming]
Prices for homes in first-tier Chinese cities spiked during the first half of the year as official easing policies gained ground in restoring market confidence.
Property in Shenzhen surged 22.3 percent followed by Shanghai, Beijing and Shenzhen with 6.6, 4.7 and 3.9 percent respectively, data from Centaline Property Agency showed.
Since April, growth in Shenzhen accelerated with the city seeing a year-on-year surge of 15.9 percent in June alone, according to the National Bureau of Statistics.
Shenzhen is ranked among the top cities by property transactions with sales up by 118 percent and average prices 8 percent, Zhang Dawei, chief analyst with property information provider Centaline, told Economic Information Daily.
Lu Qilin, director of the research division for Dooioo Homelink Real Estate Agency, said looser housing policies had fueled prices and transaction volume is driven up by investors' demand.
In Beijing, prices have increased by speculation that the municipal government would move to Tongzhou district, Economic Information Daily reported, citing an industry insider.
As prices pick up, the number of deals being revoked is increasing and some developers are starting to increase prices, the newspaper said.
In Shenzhen, a project's price rose from 170,000 yuan ($27,387) per square meter to 376,000 yuan in June. Due to the regulator's intervention the price was later reduced 176,531 yuan per square meter.
According to Centaline, 60 percent of contracts have been revoked in Shenzhen since looser policies were introduced on March 30.
Home prices will continue to rise in the second half of the year, Zhang said.