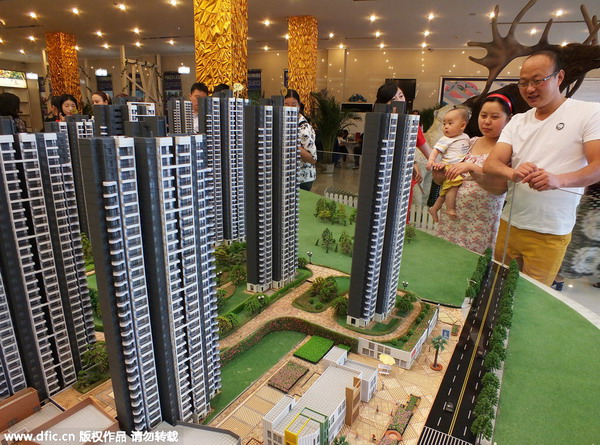 Potential homebuyers take a look at residential housing at a sales center in Yichang, Hubei province, May 23, 2015. [Photo/IC]
BEIJING - China's real estate market continued to warm up in June, with fewer cities seeing new home prices drop for the fourth consecutive month.
On a monthly basis, new home prices fell in 34 of the 70 cities monitored by the government in June, down from 43 in May, according to data released on Saturday by the National Bureau of Statistics (NBS).
New home prices climbed in 27 cities, up from 20 in May, including Beijing, Tianjin, Shanghai, Guangzhou and Shenzhen.
Nine cities registered flat new home prices, mostly second-tier cities such as Changsha, Wuxi and Kunming, the NBS data showed.
For existing homes, 20 cities saw price declines on a monthly basis, while 42 cities posted gains.
China's property market took a downturn in 2014 due to weak demand and a surplus of unsold homes. The cooling has continued into 2015, with both sales and prices falling and investment slowing.
To combat the downward pressure, the central bank has cut the benchmark interest rate four times since November, and reduced banks' reserve requirement ratio three times since February.
The government has also eased down payment requirements for second-home purchases. Some local governments rolled back their restrictions on home purchases to help with the emerging signs of improvement.
Year on year, 68 cities reported new home price drops, with Shanghai and Shenzhen being the only two exceptions, with a 0.2 percent and a 15.9 percent increase, respectively, the NBS data showed.
According to NBS statistician Liu Jianwei, home sales in top-tier cities where demand is high saw strong growth. While in less developed cities, both new and existing home sales either stayed flat or dropped, with a narrowed declining rate.
China's economy posted a better-than-expected 7-percent growth year on year in the second quarter of 2015, as the government's bold moves in macro-control and adherence to structural reforms pave way for steady improvement in the latter half of the year.