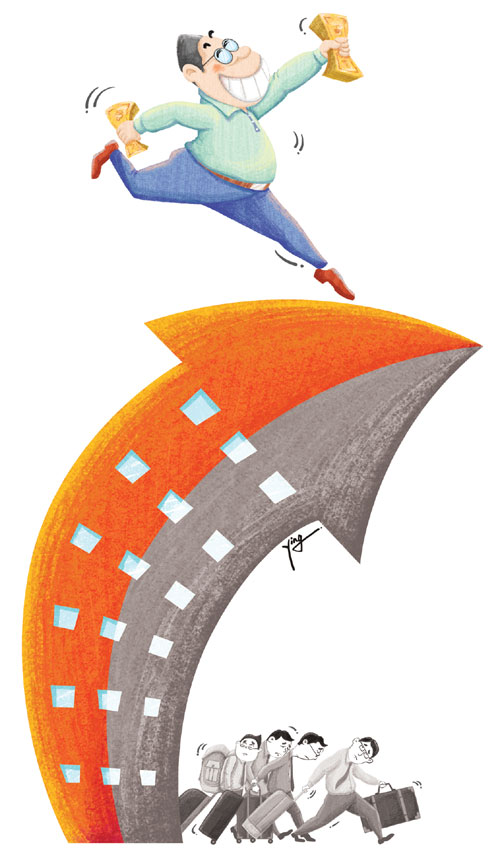 Wang Xiaoying/China Daily
As the real estate market in Shenzhen soars, rising rental prices are creating problems for the city's white-collar workers
Shenzhen is known as a dynamic and innovative city. But when you scratch beneath the surface of this economic powerhouse, you find a residential property market that is causing concern.
Frenzied house sales are starting to affect the rental sector as landlords raise rents in an attempt to cash in on a red hot market.
In May, the average rental price in Shenzhen hit 66.6 yuan ($10.73) per square meter, a jump of 16.35 percent compared to the same period last year, according to the city's Centaline Property Research Center.
Data showed that Futian district was the most expensive area of Shenzhen, which is situated in the southern province of Guangdong, at an average of 73.6 yuan per sq m.
"It is very common for property owners to raise rents frequently," Ling Chao, a real estate agent in Futian, said, adding that monthly rental prices had increased by 300 yuan on average since April.
As rents rise, residents such as Wen Jing, who works for a media company, are being priced out of the market. Since she works in Futian district, she was keen to find an apartment close to her office.
After looking at several properties in April, she decided to go for a two-bedroom apartment, which was on the market at 4,200 yuan a month, and split the rent with a roommate.
But just before she signed the contract, the landlord increased the price to 4,600 yuan. "It is unimaginable that an old apartment with poor decoration can fetch such a high rental price," Wen, 24, complained.
Finally, the landlord agreed to stick with the original price after lengthy negotiations, but only until the end of the year.
"In this market, you do not know the final price until you sign the lease," Ling said.
Ken Kan, deputy general manager of the Shenzhen office of Colliers International, a commercial real estate services company based in the United States city of Seattle, put sky-high rents down to the booming property sector.
In June, house prices in Shenzhen went up by 13.67 percent compared to the same period last year, the biggest increase among 100 major cities in China. But there are other factors at play.
"Compared with Beijing and Shanghai, Shenzhen has more migrants, and a large number of them are young people who need to rent apartments," Kan said. "The number of migrants has triggered a rising trend in Shenzhen's residential rents."
Still, despite the surge, Kan is convinced rents are still at a reasonable level. "As long as people are renting property, we cannot say that prices are unreasonable," he added.
Many would disagree, especially the city's young white-collar generation. They are feeling the pressure of rising prices, which are eating into their annual salaries.