China's rich seek shelter from stock market storm in foreign property
* Realtors report buying by Chinese mainland investors fleeing stock market
* Most new interest at top end of property market
* Australia and Canada benefiting from weak currencies
* Concerns some buyers stuck in stocks will can property purchases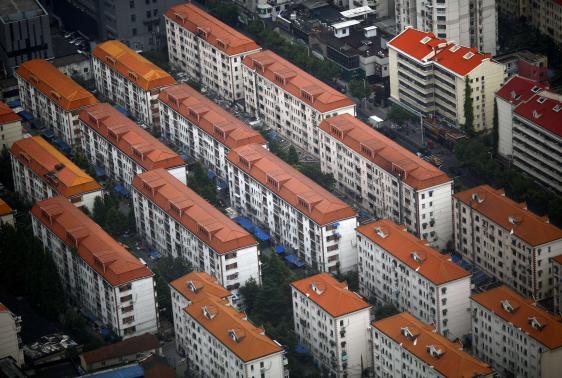 Apartment buildings are seen in a residential area at Pudong district in Shanghai August 2, 2013. [Photo/Agencies]
SYDNEY/LONDON - Realtors in Australia, Britain and Canada are bracing for a surge of new interest in their already hot property markets, with early signs that wealthy Chinese mainland investors are seeking a safe haven from the turmoil in Shanghai's equity markets.
Sydney realtor Michael Pallier said in the past week alone he has sold two new apartments and shown a A$13.8 million ($10.3 million) house in the harbourside city to Chinese mainland buyers looking for an alternative to stocks.
"A lot of high net worth individuals had already taken money out of the stock market because it was getting just too hot," Pallier, the principal of Sydney Sotheby's International Realty, said. "There's a huge amount of cash sitting in the Chinese mainland and I think you'll find a lot of that comes to the Australian property market."
Around 20 percent has been knocked off the value of Chinese mainland shares since mid-June, although attempts by authorities to stem the bleeding are having some effect.
Many wealthy Chinese mainland investors had already cashed out. Major shareholders sold 360 billion yuan ($58 billion) in the first five months of 2015 alone, compared to 190 billion yuan in all of 2014 and an average of 100 billion yuan in prior years, according to Bank of America Merrill Lynch.
While much of that money may initially be parked in more liquid assets like US Treasury bonds and safe-haven currencies such as the Swiss franc, there is growing evidence that foreign property sales may receive a boost.
"There is anecdotal evidence that Chinese mainland buyers have intensified their interest in 'safe haven' global property markets, including London, as a result of the recent stock market volatility," said Tom Bill, head of London residential research at Knight Frank.
Ed Mead, executive director of realtor Douglas & Gordon in London, said his firm had seen two buyers from Chinese mainland looking to buy whole blocks of flats.
"It is unusual to see the Chinese block buying, it implies that this is a capital movement rather than just individuals looking to park money."