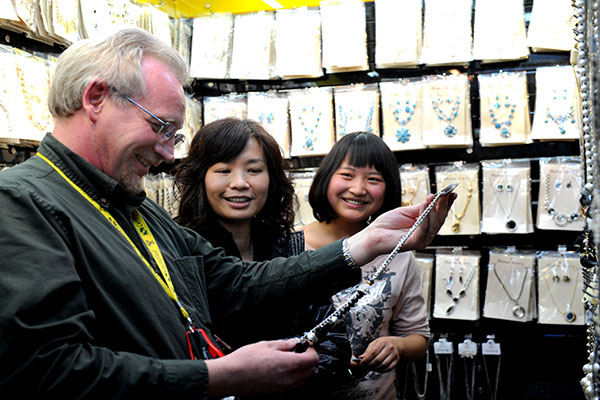 A Canadian businessman buys a necklace in a commodity center of Yiwu, Zhejiang province. Two-way trade reached $78 billion last year, making China the second-largest trading partner of Canada. [Photo/IC]
China has been identified as a priority market in Canada's Global Markets Action Plan because "China is soaring onto the world stage in an unparalleled way", Canadian Minister of Finance Joe Oliver said.
Oliver was speaking at the Canada China Financial Summit 2015 on Wednesday in Toronto.
This year marks the 45th anniversary of diplomatic relations and the 10th anniversary of the strategic partnership between China and Canada. Also, 2015-2016 is the Year of Cultural Exchanges between Canada and China.
In this context, the federal government took an important step forward in deepening its financial relationship with China by establishing a renminbi trading hub in Canada-the first in North America.
"It was a landmark in a long line of important steps to deepen bilateral commercial, diplomatic and cultural ties," Oliver said.
Canada has dramatically increased trade ties with China, he said. Exports to China have more than quadrupled since 2003, with two-way trade totaling $78 billion last year, making China the country's second-largest trading partner.
Foreign direct investment between both countries increased more than seven-fold between 2005 and 2013, to a total of $21.5 billion.
Oliver also said that Canada and China have clearly made great strides together. But there is tremendous potential to grow this relationship even further. That is why Canadian Prime Minister Stephen Harper and Chinese Premier Li Keqiang announced the establishment of the China-Canada Economic and Financial Strategic Dialogue.
"The dialogue aims to deepen bilateral trade and investment ties, which are a priority under our government's Global Markets Action Plan," Oliver said.
Regarding the establishment of the Asian Infrastructure Investment Bank led by the Chinese government, Oliver said that Canada's government is monitoring developments to determine opportunities for Canadian companies to compete for infrastructure projects.
"When we make a decision, it will be based on Canada's national interests," said Oliver. "What is certainly in Canada's interest is becoming a key energy supplier for China."
China is projected to become the world's largest economy as early as 2020, he said. As a result, China's energy needs are growing exponentially.
Canada needs to diversify its markets and China wants to diversify its sources of supply, he said. Canada will benefit in enormous long-term potential flows from this strategic complementarity, especially in energy.