Official expects institution to be driver of reform in governance of financial sector
The China Center for International Economic Exchanges is playing an increasingly important role in shaping the country's development policies by turning many of its research projects into workable economic policies, says the center's Vice-Chairman Zhang Xiaoqiang.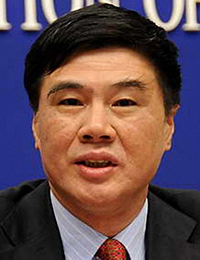 Zhang Xiaoqiang, vice-chairman of the China Center for International Economic Exchanges 
In an exclusive interview with China Daily, Zhang revealed the think tank-launched by former vice-premier Zeng Peiyan in 2009-is currently working on more than 30 research topics, including one on how to build an effective operating mechanism for the China-led Asian Infrastructure Investment Bank.
"Over the past six years, much of our advice has been accepted by the country's leadership, as we focus on forward-looking and crucial topics that relate to economic and social development," said Zhang.
"The creation of a special financing institution for Asian infrastructure construction, which has evolved into the AIIB, was one of our initiatives in 2013-a time when the world was looking for new ideas to spark an economic recovery," said Zhang.
"We offered the government a proposal on how China could help develop mutual development projects in Asia, to clear what had become a bottleneck in low-level infrastructure construction in the region. Our solution was to create a multilateral institution to raise funds."
When the suggestion was submitted to the Political Bureau and the State Council, the top leadership immediately thought it was a good idea and instructed the relevant government departments to carry out further studies into it, said Zhang.
In October that year, President Xi Jinping proposed the creation of the AIIB during his visit to countries in Southeast Asia, which he said would promote regional connectivity and economic integration.
The Ministry of Finance, which coordinated the bank's preparatory work, later held meetings attended by the country's major think tanks to discuss possible difficulties and challenges facing the AIIB's future operation.
Besides CCIEE, the Development Research Center of the State Council, the Chinese Academy of Social Sciences, and the research institutions of Tsinghua and Peking universities were also involved.
"The key work carried out by CCIEE involved how to make the bank a truly global organization," said Zhang. "Now it has been officially launched, we consider its creation a significant development breakthrough, and we all care deeply about its future success."