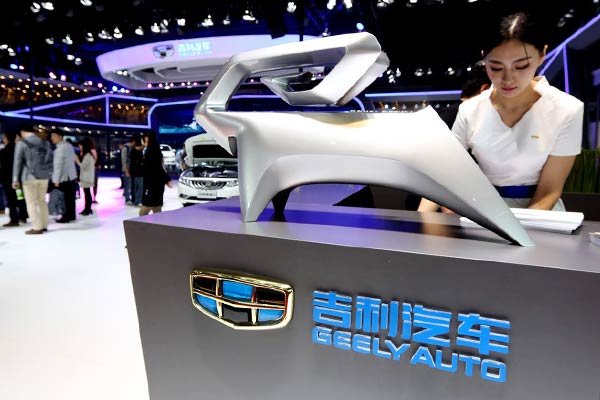 Geely Automobile's pavillion is pictured on April 22, 2015 at the Auto Shanghai. [Photo / IC]
The growth in Chinese vehicle exports in recent years has prompted original equipment manufacturers to navigate the next wave of globalization, including sales and service networks and dealer networks.
It seems obvious that Chinese OEMs are targeting prominent emerging markets in such regions as the Middle East and Africa, Southeast Asia and East Europe. But what will the new auto battlefield look like?
According to a new publication from automotive research institute PwC Auto facts, looking at it from the contribution to growth angle, South America will account for 6.5 percent of global growth from 2014 to 2021. The Middle East and Africa, and East Europe will account for 4.7 percent and 6.8 percent, respectively.
But the developing Asia-Pacific region (China, India and Southeast Asia) will account for 65 percent of the growth. Most Asian markets have things in common: good economic growth, favorable policies, low car penetration levels (100-200 vehicles per 1,000 people) and bright potential. Despite this, Chinese OEMs are struggling to penetrate overseas markets and are paying a heavy price for their practices. For example, Just Auto, an automotive news website, recently published an article discussing Chinese OEMs' "fiasco" in the Brazilian auto market, attributing their failure to couple of factors.
From a macroeconomic perspective, the Chinese OEMs greatly overestimated the market outlook and from a product perspective, the article noted that although most Chinese brands offer well-equipped models, there are few additional options available.
Also, Chinese vehicle producers offer competitive prices but few warranties. Further, Chinese brands are perceived to be lacking in quality and durability in comparison with established rivals. On the supply side, the construction of assembly facilities has often lagged far behind plans. Some other difficulties have arisen. For example, in Southeast Asia, Chinese OEMs must solve the most fundamental problem of switching from right-hand driving to left-hand driving.
Further, Japanese brands have already built up strong customer loyalty in major Southeast Asian countries such as Thailand and Indonesia. The question for Chinese OEMs is, what can be done to break the Japanese dominance in the region?
There are other obstacles. For example, the Middle East and Africa are economically diverse regions with huge market potential. But despite the considerable success in achieving macroeconomic stability, the region's different tariff and economic policies and legal systems pose hurdles for foreign manufacturers.
As the global economy continues to slow, are there any opportunities left? For firms that are in a rush to go overseas, we would suggest targeting a niche market, an example being light vehicles in Indonesia, a market with relatively junior buyers who need "cultivation" to become loyal customers. Simple repair and maintenance will meet their needs, however.
Chinese brands may not have built up a comprehensive service system in the region. But it seems to be a good time to do so, with customer retention and brand reputation attainable at a relatively low cost. As dominant as Japanese brands are in the region, there are still sectors such as light commercial vehicles that they do not focus on. Chinese branded models seem to be very good options for price-sensitive East Asian consumers.
Another example is Volvo cars, which are produced under the Geely Automobile Holdings Ltd. It is an example that is not easy to follow, however. We think the Volvo brand is leading the way when it comes to foreign markets and Geely is taking full advantage of the acquisition of Volvo and gaining the desired synergies. Geely can indeed use the acquisition to accelerate the promotion of self-branded high-end vehicles in the global arena.
Most people think the reason for Toyota's emergence in the United States market was that it seized the chance to develop fuel-efficient vehicles that made US domestic "gas guzzlers" less attractive during the 1980s.
Given that many experts were surprised by Japanese automakers' prominence in the US market, we must understand that quality was the foundation of their success.
Jin Jun is PwC China Consulting Partner and Sophie Shen is PwC China Consulting Manager.