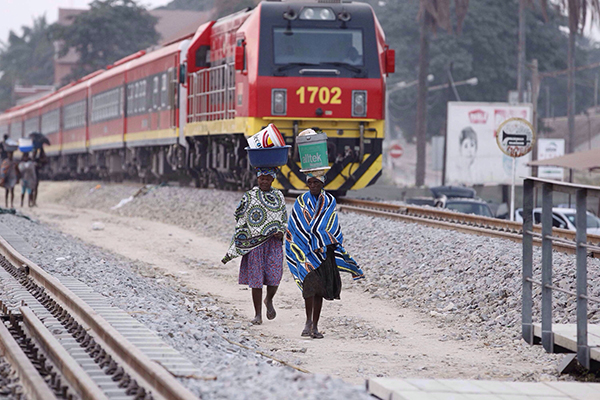 A 1,344-kilometer railway, designed and built by the China Railway Construction Corp, became operational in Angola late last year. With a total investment of $1.83 billion, this is by far the longest railway built by a Chinese company in the overseas market. [Photo/Xinhua]
China and the United Kingdom may find more opportunities to cooperate in third-country markets.
The two countries have already achieved much progress in bilateral investment and trade in recent years. In Europe, the UK is China's second-largest trading partner after Germany, and it has been the top European destination for Chinese investment since 2012.
Both countries have advantages and expertise and are highly complementary in their economies. They can develop third-country markets through investment, deployment of technology and expertise and the construction of projects.
For example, the shift in nuclear power from developed nations to developing ones is becoming an important trend, so China and the UK can cooperate in building civilian nuclear energy projects in such markets. India, Pakistan and many other developing countries are moving to use more nuclear power as a key fuel source.
The UK is a global leader in the nuclear industry, a position built up through 60 years of safe operations. With lots of experience, the UK nuclear supply chain has built up huge expertise right across the fuel cycle.
While China is a relative latecomer to nuclear power-its first reactor was connected to the grid only in 1991-it aims to become a major player in nuclear technology supply to the world. China has started exporting its nuclear technology. The UK, with more than 60,000 skilled professionals and a focus on safety and quality, can be a partner for China in this industry.
Infrastructure projects in third-country markets can also be an area of cooperation. China has been investing in infrastructure projects in developing countries in Asia and Africa, while at the same time gaining business for its companies.
The UK has a High Value Opportunities program that helps businesses access large-scale overseas procurement projects. The program has led to a number of significant projects across Asia.
These include Singapore's mass rapid transit development program (worth 30 billion pounds, or about $47 billion), a Malaysian transport infrastructure (22 to 28 billion pounds), a flood management and infrastructure in Thailand (more than 20 billion pounds) and so on.
China can join the UK program and cooperate with well-known UK companies, such as Arup and Atkins. Both are multinational professional services firms that provide engineering, design, planning, project management and consulting services. Such companies embody UK's advantages in the service industry.
In cooperation with these UK companies, Chinese firms can win infrastructure projects easily and gain experience.