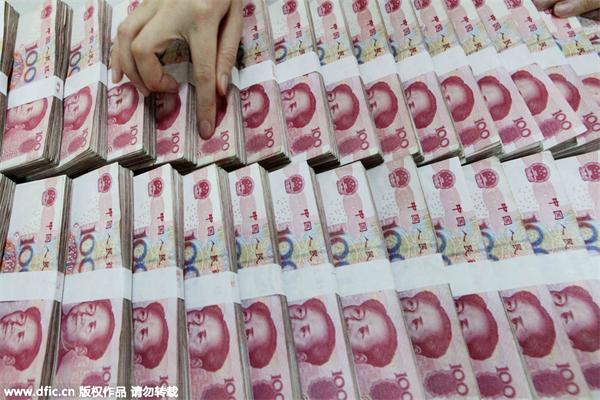 A Chinese clerk counts RMB (renminbi) yuan bills at a bank in Ganyu county, Lianyungang city, east Chinas Jiangsu province, 25 October 2012. [Photo/IC]
Given that China is now the world's largest exporter and second-largest economy, it is a matter of when, not if, the renminbi will be included in the International Monetary Fund's special drawing rights (SDR) currency basket alongside the dollar, euro, pound and yen. And the IMF's five-yearly SDR review later this year will be a good time to do so.
The renminbi's inclusion would cement its rising reserve currency status, reassure the many investors and companies around the world already actively using it and accelerate investment in the currency.
To qualify, the renminbi needs to be "freely usable", though not necessarily "fully convertible". The yen became fully convertible only in 1980 - two years after the IMF determined it to be freely usable. Similarly, the renminbi could be given SDR status now, while China continues to open up its economy.
The renminbi is the world's fifth most-used payment currency, according to Society for Worldwide Interbank Financial Telecommunication (SWIFT), and 27 percent of China's total goods trade is now settled in renminbi. Fuelled by strong policy backing from Beijing, the internationalization of the renminbi is like a roaring train without a reverse gear.
Onshore, the Shanghai Free Trade Zone spearheads pilot tests for China's capital account liberalization, including the "two-way renminbi sweeping" program which effectively allows free movement of corporate funds in and out of China.
Offshore, renminbi centers led by Hong Kong, Singapore and London are now providing a wide range of renminbi hedging and investment products, plus access to raise capital in the "dim sum" bond market, now worth a staggering 750 billion renminbi ($91.78 billion).
Foreign investors are enjoying increasing access to China's stock and bond markets, and the renminbi foreign exchange market has become considerably deeper and more liquid.
More than 60 central banks globally have invested in renminbi assets, with estimated holdings of more than $100 billion. So even before gaining SDR status, the renminbi is a recognized currency in the eyes of many central banks. And according to the People's Bank of China, the renminbi now ranks seventh in reserve holdings globally.
All this suggests the renminbi broadly meets the technical requirements based on the current "freely usable" SDR criterion as well as the potential new reserve asset criterion.
It should also count in the renminbi's favor that China is beginning to exert its geopolitical influence on the global stage, starting with its leading role in establishing the Asian Infrastructure Investment Bank, which will provide finance to infrastructure projects in Asia, while giving a greater voice to emerging markets collectively.
Does that mean China cannot do more? Of course, not.
For one, China still imposes foreign exchange controls on personal capital transactions. And foreign investors still don't have sufficient access to Chinese capital markets.
But it would be a mistake to doubt Beijing's political will to deliver greater convertibility. PBoC Governor Zhou Xiaochuan has vowed to launch a series of reforms in 2015, including pilots to allow individuals to invest directly overseas - starting with the impending launch of the Qualified Domestic Individual Investor (QDII) scheme.
The Shanghai-Hong Kong Stock Connect program is also set for expansion, while a similar arrangement linking up Shenzhen and Hong Kong is expected to take off later this year. Just recently, the mutual recognition of funds between the Chinese mainland and Hong Kong has been announced, allowing eligible funds to be distributed on either side of the border.
Striving for managed convertibility will afford China more control over its economic transformation and the associated risk. And a steady, managed emergence into the global economy is good not only for China but also - given the country's sheer size and global influence - for the rest of the world.
The role of the IMF is not just to foster currency and monetary development, but also to secure financial stability and promote sustainable economic growth. Right now, the IMF is instrumental to China's further opening - a potential catalyst for its future liberalization and next phase of economic and financial development.
The author is Standard Chartered chief executive officer for Greater China.